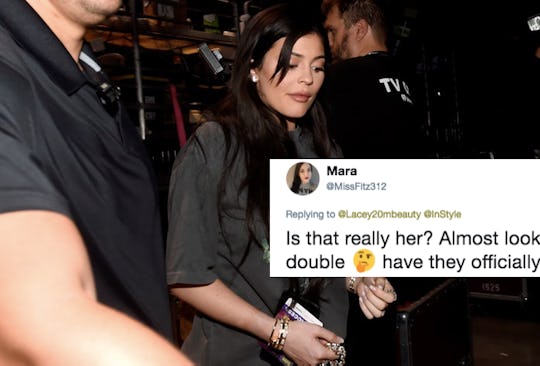 David Becker/Getty Images Entertainment/Getty Images
These New Paparazzi Photos Of Kylie's "Baby Bump" At CVS Have Fans Totally Stumped
Now that Kim Kardashian and Kanye West have welcomed their third baby, it feels like we're all just a tad closer to some official word on Kylie Jenner's rumored pregnancy, too. The day Kardashian's surrogate gave birth, paparazzi appear to have caught Kylie Jenner at CVS with a "baby bump" on full display right by Cedar Sinai Hospital in L.A. Social media is obviously on fire trying to dissect the pics.
In the picture taken by Backgrid, Kylie is perusing the aisles in a pair of leggings and an oversized green hoodie. She's wearing some super cute wedges and a big pair of sunglasses. If the photos are real, it definitely looks like she's pregnant, though they would likely debunk the whole "Kylie is Kim's surrogate" rumors, since they were allegedly taken when the baby was being delivered.
Then again, if you look closely, it's not 100 percent clear that that's actually Kylie. It could be, but it's sort of a weird picture for a few reasons. The biggest one is that it's hard to believe that after all of this time staying expertly away from the long lens cameras, Kylie would just pop up out of nowhere at a CVS, all be her lonesome, with no security around her. Like, this is not how a Kardashian or a Jenner reveals their pregnancy.
People On Twitter Aren't Totally Convinced, Either
The Kardashian and Jenner family are pros when it comes to protecting their image, so these pictures feel like a fluke. Especially since on Monday's episode of Keeping Up With The Kardashians, the family dealt with people sneakily taking pictures of Kylie in her house.
During the episode, Kris gets a call from her youngest to report that one of her employees was trying to take pictures of her with an intent to sell it. Whether it was because Kylie had a baby bump or not is still unconfirmed, but the family went into action, with Kris even suggesting that they "arrest" the person.
Momager Jenner said, according to Teen Vogue:
There's always somebody that's trying to exploit the certain situation, and to have somebody in her own home trying to snap pictures they shouldn't be snapping is really, really stressful. You want to be able to trust the people that you're surrounded by, but we have to really be on alert at all times, and that's extremely upsetting when you feel like you can't be in your own bedroom or bathroom.
It's no secret that Kylie has been missing from pretty much all the Kardashian and Jenner action, most notably by not appearing in the family's annual Christmas card. But it's really no one's business as to why that is, since there are a lot of other reasons for her to want to lay low that don't have anything to do with her uterus.
Even just knowing that there are people in her house trying to get pictures of her to sell to magazines makes it pretty clear that her life is nothing like the average person's. She could be pregnant or she could just use a break from being on camera.
Since the rumors started being passed around in September, the Life of Kylie star has only made a few appearances, and only some of them official, like the time she and Khloé Kardashian made a video for her cosmetics brand. In November, she called out people on social media for Photoshopping pictures of her and there was one paparazzi shot that came out in December in which she could be pregnant, if you really must police her body. She also appeared in her sisters' Snapchat videos on Christmas Eve, according to People.
So maybe that was really Kylie in CVS, or maybe she's somewhere far, far away on a tropical island just living her best life. When she wants us to know about her life, she'll tell us. And we'll be here for it.
Check out Romper's new video series, Romper's Doula Diaries:
Watch full episodes of Romper's Doula Diaries on Facebook Watch.