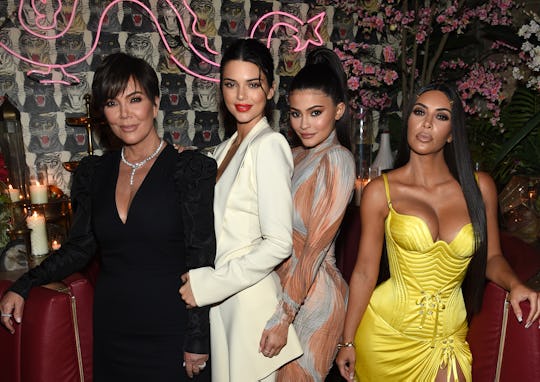 Dimitrios Kambouris/Getty Images Entertainment/Getty Images
The Kardashians Had A Great Time On 'Family Feud' A Few Months Ago
A few months back, some of the KarJenners faced off against Kanye West's family on Celebrity Family Feud. You may have heard about it in the months leading up to the episode from people like Kris Jenner, who was on the episode and posted about it on Twitter. Or maybe you saw an article about their appearance on the show after the fact. But when were the Kardashians on Family Feud, anyway? It's actually been several months since their appearance first aired in the summer.
The Celebrity Family Feud page on ABC's website lists the "The Kardashians vs. The West Family" episode, and says it's "coming soon" with a date of September 23 listed. However, this Sunday is not the first time the episode actually aired.
The Family Feud episode where Team Kardashian (Kris Jenner, Khloé Kardashian, Kendall Jenner, grandmother Mary Jo "M.J." Campbell, cousin CiCi Bussey, and family friend Jonathan Cheban) faced off against Kanye's Family Feud team — Kanye, Kim Kardashian West, and Kanye's cousins Kim Wallace, Jalil, and Ricky, according to Junkee — aired back in June, according to Vulture. It first premiered on ABC on Sunday, June 10, and it looks like both teams had a pretty good time, even if things got a little competitive between some of the family members asW Magazine reports.
But even if the episode aired in June, that doesn't mean that's when the families showed up to tape their appearance before a live audience. W Magazine reported that it was "clearly taped months ago" because Khloé has a baby bump and Kylie is nowhere to be seen.
It's not totally clear if the appearance is from back when people weren't entirely sure if Kylie was pregnant or not, when she kept the whole pregnancy a big secret. Or she might have still been recovering from giving birth to Stormi. But in any case, she's one of the KarJenners who isn't on hand for the episode; neither is Kourtney Kardashian.
Originally, the Kardashian family was not supposed to face off against Kanye and Kim, splitting up the family over two teams, according to Entertainment Tonight online. It was supposed to be the Kardashians versus the Hilton family — as in, Paris Hilton — initially, but according to host Steve Harvey when he appeared on The Ellen DeGeneres Show, that changed. Harvey said:
They were supposed to play against the Paris Hilton family, the Hiltons against the Kardashians. The Hiltons cancelled so Kanye, who's a big fan of Family Feud said, 'I want to play.' So, he brought his family — people you don't know, these cousins.
And it really worked out for Kanye, who seems to be a huge fan of the show.
In fact, the whole family might really enjoy the game show on ABC. Kim admitted during the appearance that they watch the show every night. See, everyone? The Kardashians, Jenners, and Wests are really no different than all of us non-famous people. They just also happen to have mansions, fabulous music careers, and makeup brands.
While the episode did originally air back on June 10, there are ways you can still watch the Celebrity Family Feud episode featuring the Kardashians. As previously mentioned, it will air again on Sunday, September 23. Episodes of the show are also available on Hulu, although that particular episode doesn't appear to be available yet. Considering other ones are listed on the streaming platform, it will hopefully be added after the episode re-airs on Sunday.
The Kardashians may have been on Family Feud back in June, but if you want to see the family feuding in another way, some members of the family have been at odds on Keeping Up With the Kardashians during recent episodes of the reality show. But their real life family feud probably isn't as much fun to watch.