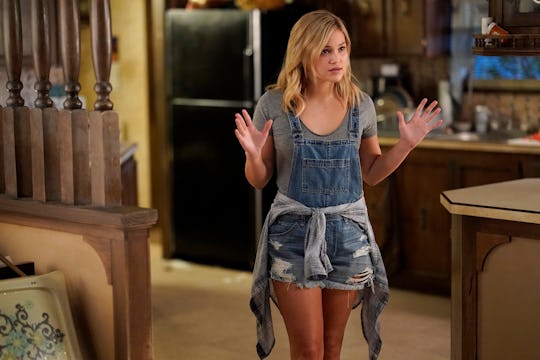 Alfonso Bresciani/Freeform
'Cloak & Dagger' Won't Be Headed To Netflix Anytime Soon
Whether you've watched Cloak & Dagger in its entirety up to this point or it's one of many on your list of shows to catch up on, the sad fact is that the season finale is Thursday night. For those of us who are dedicated Netflix subscribers, the obvious question now is, when will Cloak & Dagger be on Netflix? The streaming platform is now home to dozens of original TV shows and the newest seasons of shows currently on network television right now. It's only natural to assume that Cloak & Dagger will soon make its way there.
Netflix may be home to some other popular superhero shows, but Cloak & Dagger probably won't be headed there anytime soon. In the past, Netflix has welcomed other Freeform shows, but Hulu currently has a deal with Freeform that allows all new episodes to be available for streaming after they air on TV. So right now, you can find all Cloak & Dagger episodes so far on Hulu, but not on Netflix and likely not for a while, if at all.
Freeform president Tom Ashcheim told Decider that the deal with Hulu has done nothing but good for Freeform shows in terms of adding new viewers and increasing weekly viewership as a whole. "Hulu does a good job of making sure people's viewing behavior is reflected in their individual recommendations," he said. "If you watched Season 1 of The Bold Type, you're probably going to see some messaging around Season 2. If you've watched Marvel shows on Hulu, you're probably going to see messaging around Cloak & Dagger. That's very efficient marketing."
As a Hulu user, I can attest to this handy recommendation feature. If Hulu tries to recommend Desperate Housewives or Harlots to me one more time after watching The Handmaid's Tale, well, I may just have to watch one of them.
Ashcheim also said that thanks to Freeform's partnership with Hulu, there has been plenty of cross promotion to allow Freeform shows to thrive in a way they may not have been able to before. "The libraries are sometimes on Hulu and sometimes on other places, and Hulu has been a terrific partner," he added. "A lot of our marketing will say, 'Watch it on Freeform or on the app or on Hulu,' and they've become a standard part of the way we tell people to find our shows."
Another benefit that comes along with Freeform and Hulu's deal is the fact that Hulu is known for offering up new episodes of network TV shows the day after they air. Since Netflix doesn't do this, I can't see the partnership between Freeform and Hulu ending anytime soon. So, I don't think the deal will be ending anytime soon, which means that Cloak & Dagger will likely remain at Hulu rather than switch over to Netflix.
If I had it my way, all of my favorite shows would be available on both Hulu and Netflix, but that's just not how it works. I don't know if either streaming platform is better or worse than the other, but right now it would seem that Cloak & Dagger is staying on Hulu. Especially given that up until now, all new episodes have been available for streaming. If you're already a Hulu subscriber, then that's probably good news for you. So if you want to rewatch the first season or catch up before Season 2 premieres in 2019, Hulu is the place to go.