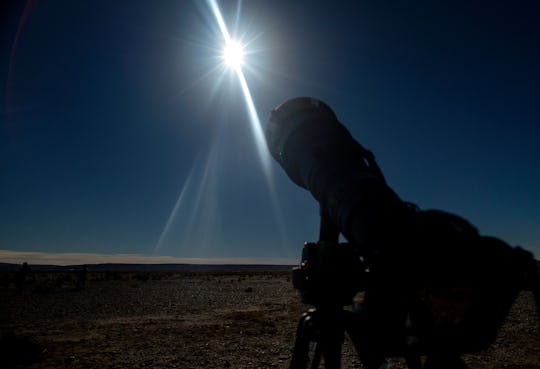 ALEJANDRO PAGNI/AFP/Getty Images
Here's When The Next Solar Eclipse Will Happen
Throughout the summer, people have been preparing for the upcoming solar eclipse on Aug. 21. From listicles on the best viewing parties to instructional articles on how to safely watch the celestial phenomenon (please don't burn your eyeballs), there has been non-stop chatter about the solar eclipse. Now that the event is less than a week away, people are already wondering when the next solar eclipse will happen, because this is an exciting phenomenon no one wants to miss.
The last solar eclipse was 38 years ago on Feb. 26 in 1979, and its path of totality crossed through the states of Washington, Oregon, Idaho, Montana, and North Dakota, according to NASA. 38 years is a long time, so it only makes sense that people are freaking out about the solar eclipse on Aug. 21. Anything to distract from the current political climate, right? The good news is people won't have to wait as long for the next solar eclipse — according to Newsweek, the next solar eclipse will go down on April 8, 2024.
If you're one of the states that won't get to see the full eclipse on Aug. 21, you might be in luck when 2024 rolls around. According to Great American Eclipse, people in Texas, Maine, Arkansas, Ohio, Indiana, Illinois, Missouri, Michigan, Vermont, New Hampshire, Pennsylvania, Kentucky, and New York will be able to see the 2024 solar eclipse in its totality.
As expected, people are already psyched for 2024:
Yep, people are already amped for the next solar eclipse. There's no shame in planning ahead — this is your time to shine, Type A personalities.
The only bummer about the 2024 eclipse is that it will fall on a Monday, which is arguably the worst day of the week. What's with eclipses and Mondays? Is this the universe's middle finger to everyone here on earth? Not to mention school will be in session for just about everyone in America when the 2024 eclipse happens. Ugh, can't the solar system be more accommodating?
As for what time the 2024 eclipse will start and end, it will begin in Texas around 2:30 p.m. Eastern Time and it will finish off in Maine at 3:00 p.m. Eastern Time. As you can tell from that time span, the eclipse will move very quickly.
Although many people are excited for the eclipse on Aug. 21, it's always fun to look ahead at what's next. If you're not going to catch the solar eclipse in a few days, rest assured that you'll have another chance to witness this rare and phenomenal event on April 8, 2024.