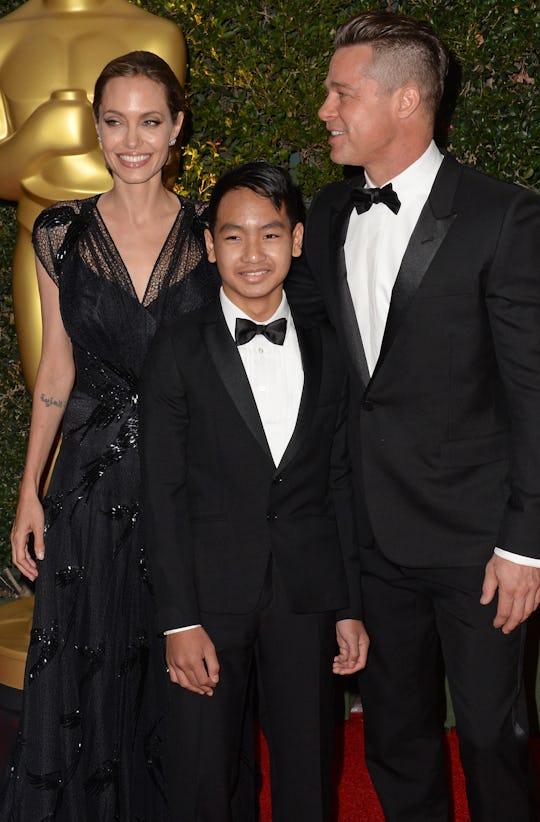 ROBYN BECK/AFP/Getty Images
Where Are Angelina Jolie & Brad Pitt's Kids Now? Pitt Hasn't Seen Them For Days
Amidst the allegations of child abuse and petition for divorce spelling the end of the Hollywood couple formerly known as Brangelina, one question (among others) still remains: Where are Angelina Jolie and Brad Pitt's kids now? Well, while both stars' camps have so far stayed mum on the subject, a source "close to the family" told PEOPLE that Pitt hasn't seen his kids in days, nor has he spoken to his estranged wife since she filed for divorce Monday. If this is true, it certainly puts a sad cap on an extremely difficult week for the once-smitten co-stars and parents of six. Pitt's representative did not return Romper's request for comment regarding the abuse allegations, and there have been no formal charges filed against him at this time.
Speculation about the couple's demise has run rampant since news about their split broke early Tuesday morning. While Jolie and Pitt married just two years ago, their relationship dates back to 2005 — or 2004, if you consider their eventual admission that they fell in love while filming Mr. and Mrs. Smith. Much like their impending divorce caused a flurry of media coverage and guesswork — not to mention a Twitter takeover — this week, Pitt and Jolie's initial coupling was also wrought with tabloid conjecture about the circumstances of their romance. As you probably remember, Pitt was still married to first wife Jennifer Aniston in 2004, when said "falling in love" occurred.
Public obsession with celebrity couples is nothing new, but the hoopla took a darker turn Wednesday when reports of Pitt's alleged child abuse and subsequent investigation by the L.A. County Department of Children and Family Services surfaced. It was later revealed the FBI was looking into the matter, as the incident purportedly occurred in airspace onboard the couple's private plane on Sept. 14. The accusations of child abuse claim Pitt became drunk while the aircraft was en route to California. Reportedly, during an ensuing argument with Jolie, the couple's 15-year-old son, Maddox, attempted to intervene, at which time Pitt allegedly became "verbally and physically abusive" with the teenager. The episode is apparently what prompted Jolie to file for divorce.
While Pitt hasn't seen his children since then, he did release a statement to PEOPLE on Tuesday reiterating his desire to focus on his kids moving forward:
I am very saddened by this, but what matters most now is the well-being of our kids. I kindly ask the press to give them the space they deserve during this challenging time.
Further, a source with knowledge of the situation also spoke to PEOPLE, insisting Pitt is cooperating with the investigation and that no child abuse took place:
There was a parent-child argument which was not handled in the right way and escalated more than it should have. He is emphatic that it did not reach the level of physical abuse, that no one was physically harmed. He did not hit his child in the face in any way. He did not do that; he is emphatic about that. He put his hands on him, yes, because the confrontation was spiraling out of control.
Though Jolie requested sole physical custody of the couple's six children in her divorce petition, Pitt has hired a high-powered family law attorney and plans to fight his soon-to-be ex for joint physical custody. Lance Spiegel is a Beverly Hills divorce attorney with a history of representing big-name clients, including Eva Longoria, Russell Simmons, Heather Locklear, Charlie Sheen, and Michael Jackson. According to the website of his firm, Young, Spiegel & Lee, Spiegel has "been involved in many high profile, and complex family law matters." Meanwhile, Jolie had already retained the services of lawyer Laura Wasser prior to filing for divorce. Wasser previously represented Jolie in her divorce from Billy Bob Thornton.
Romper has reached out to both of the actors' representatives for comment and has not yet received a response.