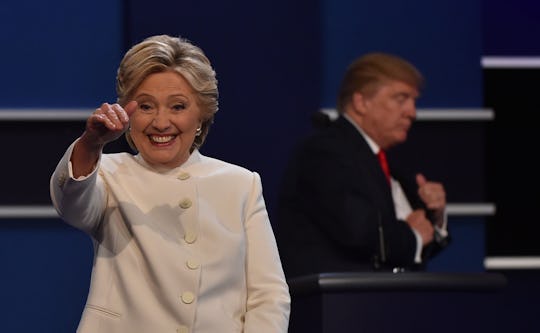 PAUL J. RICHARDS/AFP/Getty Images
Where To Re-Watch The Presidential Debates, In Case You Really Like Pain
All three of the presidential debates are over, and now is the time for us to heal together. Myself, I'm really just taking some peaceful me time, you know? Contemplative walks on the beach, herbal teas, yoga. I don't think I'm going to need therapy, but I'm not ruling it out, of course. For those of you who think you need to re-watch the three presidential debates all over again, whether it's for homework, or curiosity, or a drinking game based on GOP nominee Donald Trump's epic interrupting skills, you do you. And I'll be hear on my yoga mat in extended child's pose, quietly sobbing.
Truth time here: Normally I love a good debate. Not as a participant, mind you, but watching two intelligent, passionate people square off on issues that truly matter to them... what's not to love? When Democratic nominee Hillary Clinton was still in the primaries, going head-to-heard with Vermont Sen. Bernie Sanders, I loved it. I felt like they were learning from each other, that they admired and respected each other despite their differences. And while the Republican primary debates were, um, slightly less dignified, I was still in no way prepared for the maelstrom of the presidential debates that followed.
From name-calling to angry partisan bickering, to Trump holding a press conference with three of President Bill Clinton's accusers and one woman who claimed Hillary Clinton laughed at her childhood rape case, just before a debate, the presidential showdowns were nothing like their primary counterparts (at least not on the Democratic side — and only slightly like the Republican side). Regardless, if you're still interested in re-living the three face-offs anyway, read on to find out how:
First Presidential Debate
Remember the first presidential debate, when we were all so young and full of hope? When Clinton and Trump were still kinda/sorta smiling at each other every once in awhile and many of us were genuinely stunned at how often Trump not only interrupted Clinton but blatantly lied on the debate stage? The good news was that Clinton discovered a secret weapon at the first debate: Trump is oddly easy to rattle. She would learn to use this to her advantage over the next two debates. And fact-checking during the debate would become a national pastime. Here is the debate in full, courtesy of NBC News:
Second Presidential Debate
In which we say goodbye to the friendly handshake and hello to Kenneth Bone, internet sensation. This time around the debate was town hall style and Trump was stalking Clinton all over the stage like a caged beast. We were all smart enough to be wary and watchful this time around but still — it was 90 minutes of shock and awe. And a pretty fly white guy named Kenneth Bone who made the internet happy for a few moments, of course. Here it is in all of its glory, again, courtesy of NBC News:
Third Presidential Debate
If you want to watch the full debate, fresh off round one or in case you missed it the first time, check it out here, courtesy of NBC News:
If, however, you are hoping to save yourself a little pain and just grab the bullet points of the final presidential debate, here you go: Clinton came striding in wearing a white Ralph Lauren power suit. Trump was sniffling and pouting and muttering, "Wrong... wrong..." at every turn. He held it together for about the first 45 minutes and then, in response to a question about whether he would gracefully concede if defeated on Election Day, Trump stubbornly countered, "I'm going to keep you in suspense." (Other interesting Trump buzzwords and phrases of the night included "Bigly," "Bad hombres" (a racist jab at Hispanic immigrants), and "Such a nasty woman" (about his rival, Clinton).
And now you are ready to keep up with all those politicos at the office. Cheers.