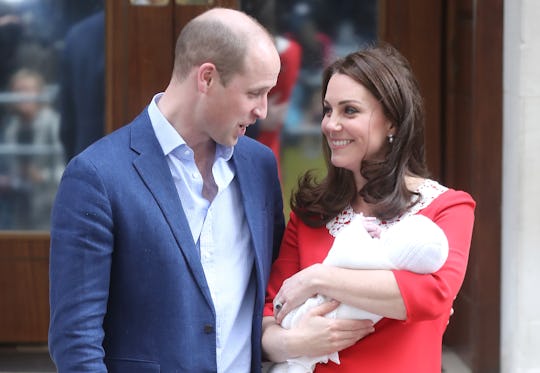 Chris Jackson/Getty Images Entertainment/Getty Images
Prince Louis' Christening Location Is Full Of Royal Family History
The British royal family is all about traditions, and one of them is baptizing their children. Given that he was born just this spring, it's about that time for little Prince Louis, the Duke and Duchess of Cambridge's third child. So where exactly will Prince Louis' christening be held and when will the world get to see the newest royal again?
The service will be held on July 9 and conducted by the Archbishop of Canterbury, Reverend Justin Welby, according to People. Welby also baptized Prince George and Princess Charlotte, as well as Meghan Markle just before her wedding, according to People. It will also be held in the same places as Markle's secret baptism three months ago: The Chapel Royal at St. James' Palace in London. Prince George was also baptized there, though Princess Charlotte's christening was in St. Mary Magdalene Church at Sandringham, the monarch's Norfolk estate, according to the BBC. The Chapel Royal is also where Kate Middleton was confirmed before her wedding day and where Princess Diana's coffin was for a week before her burial.
Although Queen Elizabeth II lives in Buckingham Palace, St. James' Palace is still the ceremonial meeting place of the royal family and the "most senior" palace of the family, according to the Daily Mail. A lot of business still goes down there, but the family also rents out apartments in the palace, too. Prince Charles' home, Clarence House, is just next door, and Princess Royal, Princess Alexandra, Princess Beatrice and Princess Eugenie all have homes inside the palace, according to Home & Property.
According to People, Louis is expected to wear the same christening gown as his brother and sister wore, a replica of the first ever historic christening gown worn by Queen Victoria's daughter, also named Victoria, in 1841. TIME reported that it will be the family's first appearance all together since Louis' birth, along with Prince William, Kate Middleton, and little George and Charlotte.
The Queen will likely be there, along with Louis' grandparents, Prince Charles and Camilla, Duchess of Cornwall. Time also reported that the Duke and Duchess of Sussex are expected to be in Ireland the two days after the christening, so it's unclear if they will be at Louis' baptism. Hopefully they will be, along with other members of the extended royal family, because watching the little kids run around and checking out Markle's outfit is the best part of any royal event.
The date is a little nod to the Queen and Prince Philip, according to Express. The couple announced their engagement on July 9, 1947, so the day has some significance. But really, who can keep up with all the important dates of the royal family's big days? This year has been just full of them. The family has one piece of big news after the next.
Along with the birth of Louis this spring, Zara Tindall, the Queen's granddaughter, also gave birth to a baby girl this week. Later this summer, the Queen's third cousin, Lord Ivar Mounbatten, will marry his partner in the first ever same-sex royal wedding. See what I mean? There's a lot of family obligations and celebrations to attend.
Middleton has been on maternity leave, technically, since Louis' birth two months ago. According to Express, it's expected that she'll start performing royal duties again after the christening. Then again, she returned to work just five weeks after giving birth to Prince George, but then took more time, four months, after the birth of Princess Charlotte. So it's possible that given the busy social calendar for the family this summer, Middleton will take even more leave this time around.
Middleton will definitely have her hands full at the christening if the past few royal events are any indication — Princess Charlotte, Prince George, and their cousins are a lot to handle. Let's hope she has help at the christening location to keep them all in line.