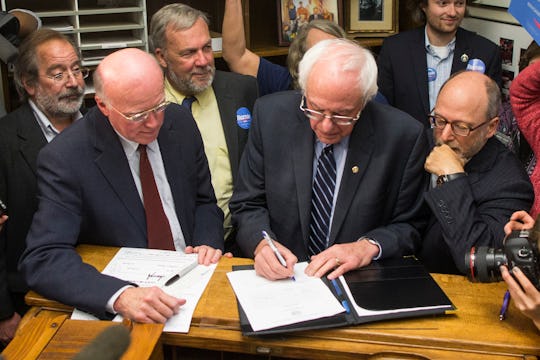 Scott Eisen/Getty Images
Which Candidates Will Be In The New Hampshire Primary? The Field Is Starting To Narrow
After a busy Iowa Caucus, the New Hampshire primary candidate elections are now less than a week away. But which candidates will be in the New Hampshire primary elections? The answer is as blustery as New Hampshire's predicted weather forecast. (Seriously, take a coat.)
Following the Iowa Caucus the winners, and well, er — second place losers — have headed to New Hampshire where they will debate and campaign their way across the state. Citizens of the state will then place their votes determining which candidate they want to represent their political party in the 2016 presidential elections. The voting, which will take place on Tuesday, Feb. 9, is important for the candidates for several reasons.
After the results of the Iowa caucus, which placed former Secretary of State Hillary Clinton in the lead of the Democratic party and Texas Sen. Ted Cruz in the lead of the Republican party, the numbers from polls were enough to have many vocal candidates on the campaign trail drop out. Former Maryland Gov. Martin O'Malley, in all of his dad bod and guitar playing glory, gracefully bowed out of the race for the Democratic nomination on Monday night following the results of the Iowa caucus — and he wasn't the caucus' only casualty.
The Republican candidates keep dropping as well. Former Pennsylvania Sen. Rick Santorum dropped out of the running on Wednesday night due to low showings in Iowa, but endorsed Florida Sen. Marco Rubio following his decision. Additionally, former Arkansas Gov. Mike Huckabee dropped out of the running on Monday night, and Kentucky Sen. Rand Paul dropped out on Wednesday afternoon.
So who is still in?
Democratic Party
You can guarantee that Clinton and Vermont Sen. Bernie Sanders will be on the ballot for the New Hampshire Primary next week. Clinton is riding high from her win in Iowa and Sanders is counting on Vermont's neighboring state of New Hampshire to pull him ahead. Despite Clinton winning the caucus by a coin toss, both candidates are confident in themselves and their campaigns for becoming the delegate of their party.
Republican Party
Despite coming in second place to Cruz in Iowa, businessman Donald Trump does not seem to be going anywhere. After going on a twitter rant against Cruz on Wednesday, Trump seems to be going into New Hampshire at full force.
Sen. Marco Rubio, who placed third in Iowa, continues to show his confidence in his campaign and supporters, and Dr. Ben Carson, after a slightly bizarre press conference in Washington D.C. following his performance in Iowa, is also still very much in the race.
Former Florida Gov. Jeb Bush, who finished sixth in Iowa with 2.8 percent of the vote, is still holding on strong for New Hampshire, despite being on the receiving end of some awkward silences at a recent speech in the state.
Also still in the running are former New Jersey Gov. Chris Christie, Carly Fiorina who, despite not attending her own Iowa caucus party will be headed to New Hampshire, and Ohio Gov. John Kasich who recently announced that if elected president, he would reunite Pink Floyd. Former Virginia Gov. Jim Gilmore is also planning on participating in the primary, despite receiving 12 total votes in Iowa.
Despite these candidates remaining in the running for the New Hampshire primary at this moment, a lot can happen before next Monday. All there is to do now is wait and see who will be on the ballot come next week.