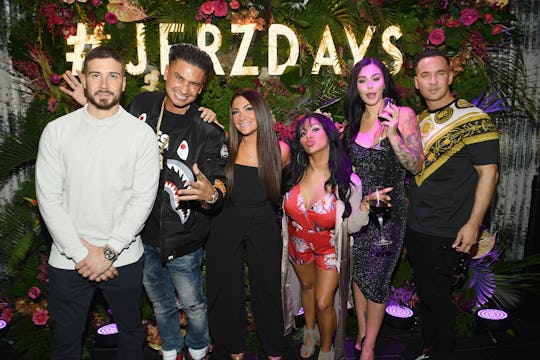 Dave Kotinsky/Getty Images Entertainment/Getty Images
Here Are The 'Jersey Shore' Stars Who Have Little Meatballs Of Their Own Now
It seems like only yesterday the cast of Jersey Shore was fist-pumping their way through Seaside, New Jersey, wreaking havoc wherever they went. But while it might be difficult to believe, the show first premiered almost nine years ago in December 2009, and a lot has changed for the cast members since then. Case in point: a total of four Jersey Shore stars have kids now (with one on the way), a wild number when you consider the entire cast was child-free when the franchise first started.
When MTV announced the Jersey Shore reboot in November 2017, most of the cast was quick to admit the vibe in Seaside would be drastically different thanks to the little kiddos in their lives. Snooki, a mom-of-two, explained to Aesthetic Magazine: "Personally, for me, I'm so over the drama. I'm 30 years old, I have two kids. That's what I worry about now, not petty sh*t from when we were drunk and fighting."
JWoww admitted she felt a lot of "mom guilt" during filming, a feeling she had to mitigate with positive thinking. She shared with People:
If I keep thinking about the kids, then I'm going to get upset and I'm going to ruin everyone's time. So there is a time where I flip the switch: They're good, they're having fun, they're with their dad. Everything's fine.
Aww.
But wait — Snooki and JWoww aren't the only cast members with kiddos or relatable quotes about parenting. Here are all of the Jersey Shore Stars who have kids now.
Nicole "Snooki" LaValle
Snooki is the proud momma of Lorenzo, 6, and Giovanna, 3. The reality star said about motherhood, according to HuffPost: "The hardest part of motherhood is no sleep, toddlers running your life and getting hit in the face 24/7. The easiest part of motherhood is the love you share with your kids because the hugs can be endless!" Preach.
Want to hear a sweet update about Snooki's baby plans? She and her husband, Jionni LaValle, are eager to expand their family for a third time. "He wants to have one right now," Snooki told E! News in March 2016. "We're ready for another one, just not like tomorrow."
Ronnie Ortiz-Magro
Ortiz-Magro became a dad for the first time in April, welcoming a girl named Ariana Sky Magro with his on-and-off again girlfriend, Jen Harley, E! News reported.
The happy dad said about fatherhood, according to Us Weekly:
You live your life not ever really knowing the meaning of true love until you have a child. True unconditional love. You love your significant other, you love your family. I have to say I understand when everyone said you'll understand "when you have a child of your own or when you become a parent."
What sweet words, right?
Paul "DJ Pauly D" DelVecchio
Fans were surprised in October 2013 when DJ Pauly D revealed he is a dad. DJ Pauly D met his daughter, Amabella, six months after his one-time paramour, Amanda Markert, gave birth in May 2013, according to E! News. But when DJ Pauly D finally saw his daughter — who he unknowingly fathered in fall 2012 — it was love at first sight. He told Us Weekly:
I was nervous if she wasn't going to like me. But the second I saw the baby her eyes just lit up, it's almost like she knew. It was amazing. I knew she was mine right off the bat too because she looks just like me. She came right over to me and put her arms right up to me. [She] grabbed my hair! That's the first thing she went for. And then she was biting my nose.
The now 5-year-old girl looks up to her dad in more ways than one. DJ Pauly D shared with People:
She's my life. She's my princess. She's a little mini-me. She wants to be a DJ — I got her a DJ room. She's scratching records already. She's so funny. She just wants to follow me around and do every single thing that I do.
Jennifer "JWoww" Farley
JWoww will do anything for her two children, Meilani Alexandra Mathews, 4, and Greyson Valor Mathews, 2. Want some proof? The mom vowed she'd always be there for her kids after she revealed in August that Greyson has a speech delay, writing on Instagram, according to E! News:
As a mother, I will go to the moon and back for my kids... no question. I live my life differently because of them. To find out Greyson is 'behind' or 'delayed' crushed me... but only for a moment... that moment came from wanting to have 'perfect children' and 'how could this happen to me?' But Grey is PERFECT and it CAN happen to anyone. I saw that last night when the messages came in by the hundreds. I decided to share that side of my family on Jersey Shore because I want to help anyone going through what I'm going through... I'm sure people need support the way I've needed it ...
Talk about one strong mama.
Deena Nicole Cortese
Cortese broke the news on July 4 that she's expecting her first child with her husband, Chris Buckner. The excited couple revealed in the announcement that the baby-to-be is a little boy, writing on Instagram: "Our little family is growing! We have a sweet little boy on the way! We Are truly blessed and our hearts are filled with so much joy and happiness."
How wonderful for Cortese — it sounds like she's going to be an awesome mom.
So many little meatballs, so little time, right? Congrats to all of the Jersey Shore stars on their adorable kiddos.