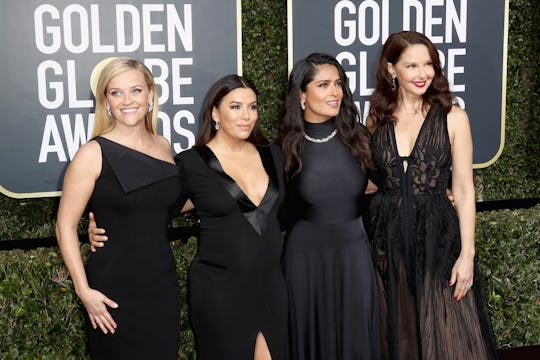 Frederick M. Brown/Getty Images Entertainment/Getty Images
Here's Who Didn't Wear Black To The Golden Globes
One of the more striking things about the 2018 Golden Globes' red carpet was that pretty much everyone — including assistants and members of the press — was wearing black in solidarity with the Time's Up movement, drawing attention to gender inequality and sexual harassment in Hollywood. But when you get a bunch of artists together, you know that someone isn't going to play along. So who didn't wear black to the Golden Globes? The good news is that almost everyone joined in on the movement. Almost.
When I say "almost everyone," I mean it. No one went up on stage not wearing black, whether it was sequined, had some white or grey detail, or even vaguely navy blue (ahem, Elisabeth Moss). If you looked out into the crowd, it appeared that pretty much anyone who is anyone was wearing black to show their support for victims of sexual abuse and misconduct, but there were three pretty major standouts.
The only one who didn't explain her choice was actress Bianca Blanco, who donned a gorgeous red dress. German model Barbara Meier wore a floral gown and, most notably perhaps, Hollywood Foreign Press Association President Meher Tatna wore a red outfit, as well.
Here They Are
Blanco didn't explain her choice, but Meier took to Instagram to address her outfit for the night. She wrote first in German and then in English. The model explained:
If we want this to be the Golden Globes of the strong women who stand up for their rights, I think, it's the wrong way not to wear any sexy clothes anymore or let people take away our joy of showing our personality through fashion. We were fighting a long time for the freedom to wear what we want to and that it is also ok, to dress up a little more sexy.
She added, "If we now restrict this, because some men can't control themselves, this is a huge step back in my opinion. We should not have to wear black to be taken serious. US women should shine, be colorful and sparkle. Just like it is our nature.In my opinion this symbolizes our freedom and our new strength."
Her reasoning is sound, to be sure, though something about the push to wear black might have gotten lost in translation. Wearing black wasn't meant to be about "covering up" or not "shining." If anything, the idea to wear black was so that the conversation would not be about what women were wearing and instead force reporters on the red carpet to ask women about the issues they care about.
Eva Longoria, one of the members of the Time's Up initiative explained in People:
For years, we've sold these awards shows as women, with our gowns and colors and our beautiful faces and our glamour. This time the industry can't expect us to go up and twirl around. That's not what this moment is about.
At first it was pretty shocking that the female head of the HFPA didn't wear black, either. But her choice actually makes a ton of sense: Her mom would have flipped. She explained, according to Entertainment Tonight:
My mom and I planned this together a couple of months ago, it is a cultural thing. When you have a celebration, you don't wear black. So she would be appalled if I were to [have] worn black. And so this is, for my mom.
Tatna did wear a Time's Up pin, as did other attendees, and has been associated not only with the initiative, but other organizations that support women in journalism. So she's definitely earned her red dress, and made her mother happy, which is obviously pretty important.
The choice to wear all black was also controversial on Twitter, with even women such as Rose McGowan, who has been closely associated with the #MeToo movement, criticizing the A-listers for attending the show at all. Others wrote it off as a way to silently protest but still benefit from the awards ceremony.
On the red carpet, women like Kerry Washington pushed back against those criticisms. She told Al Roker that boycotting the event entirely is akin to "giving up [their] seats at the table." Other actresses, alright, pretty much all of them, spoke at length on the red carpet, on stage, and even on social media about gender equality, racial equality, and the importance of harnessing this "moment" and turning it into a movement.
Obviously, wearing a black dress to an awards show isn't going to fix everything about the system. But it was a way to get the conversation started, which the women associated with Time's Up definitely did on Sunday night. As long as it's backed up with action, it doesn't matter what women wear.
Check out Romper's new video series, Romper's Doula Diaries:
Watch full episodes of Romper's Doula Diaries on Facebook Watch.