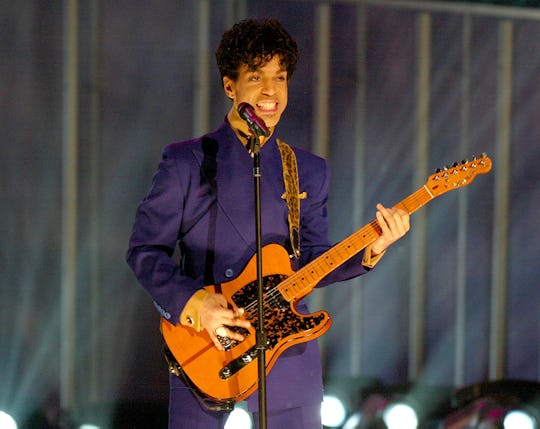 Frank Micelotta/Getty Images Entertainment/Getty Images
Who Hacked Prince's Wikipedia Page? The Reported Incident Was Truly Appalling
The Wikipedia page for Prince, who died at 57 on Thursday, hails him for his "eclectic work, flamboyant stage presence, and wide vocal range" as an artist whose music "combined rock, R&B, soul, funk, hip hop, disco, psychedelia, jazz, and pop." But on Thursday, a band of vandals hacked Prince's Wikipedia page, leaving behind some less-than-flattering words, according to TheWrap. With so many fans and admirers coming together online to mourn the loss of the pop culture icon, the racist and indescribably disrespectful phrases defacing the legendary musician's Wikipedia entry just hours after his death were quickly removed — although it didn't make the incident any less appalling.
The unidentified vandals changed the headline of the Wikipedia page to read "Dead Jehovah's Witness Negro," which TheWrap purported to have captured in a screengrab before it was removed. The move was a disgusting example of bigotry and a disregard for the singer/songwriter's life.
During his career, Prince inspired so many with his music and his attitude, dazzled the masses with his spellbinding stage presence, taught people everywhere about individuality and living as one's authentic self, and continued to create politically powerful and influential music until shortly before his death on Thursday.
Earlier this month, Prince postponed a concert in Atlanta because he was reportedly sick with the flu. Shortly after the rescheduled event, the singer's private plane made an emergency landing in Illinois, where he was taken to a local hospital and released about three hours later.
On Thursday, authorities investigated a death at a Chanhassen, Minnesota residence, where Prince had a home and recording studio. Soon after, his publicist, Yvette Noel-Schure, confirmed Prince's death.
"It is with profound sadness that I am confirming that the legendary, iconic performer, Prince Rogers Nelson, has died at his Paisley Park residence this morning at the age of 57," she said, according to CNN.
Regardless of the ultimately insignificant antics of some mean-spirited internet-dwellers, Prince, the beloved "Purple Rain" singer, will live on in our hearts — and his spirit and enthusiasm will blast from our speakers for years to come.