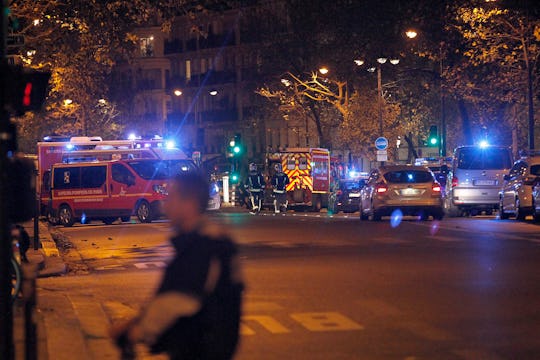 Thierry Chesnot/Getty Images
Who Is Responsible For The Paris Attacks? Two Assailants Have Been Confirmed Dead
UPDATE: One day after ISIS has claimed responsibility for the Paris terror attacks, France reportedly launched airstrikes against the militant group in Syria, dropping 20 bombs in the area. Some targets were destroyed, according to reports, but not much else is known about the airstrikes.
One of the suspected suicide bombers has been identified as Ismael Omar Mostefai. Authorities also confirmed that seven of the assailants have died, and the attacks were carried out by three coordinated groups. Paris police, however, are currently hunting for an eighth attacker who may still be at large, who has been identified as 26-year-old Abdeslam Salah.
Officials have confirmed that a police raid in Belgium led to the arrests of seven individuals who may have ties to the attacks.
On Saturday, French president François Hollande has also put the blame on ISIS, calling their actions an "act of war." Said ISIS in a statement released less than 24 hours after the attacks:
France needs to know it still remains at the top of the target list of the Islamic State.
The death toll currently sits at about 130, with over 350 wounded. (One of those killed was an American woman studying abroad in France.) According to French Prosecutor François Molins, nearly 100 of those wounded are critically injured.
EARLIER: French police told press that they believe all of the attackers responsible for over 100 fatalities Friday in multiple attacks across Paris' city center are dead. While the question of who exactly is responsible for the Paris attacks has not yet been confirmed or released, French authorities say the hostage conflict is over, and that two of the assailants responsible for the violence are now dead. However, several other suspects still remain at large, the the AP reports that a total of five attackers might be dead.
Earlier in the evening, French President François Hollande declared a state of emergency and closed French borders following the attacks. While Hollande did not immediately confirm who he felt was behind the attack, he was certain of their origin. "As I speak, terrorist attacks of an unprecedented scale are taking place in the Paris region," he said in a televised address across the nation. "There are several dozen dead, lots more wounded, it's horrific."
The gunmen reportedly opened fire at Le Petit Cambodge in Paris' city center, and set off three explosions in various locations. A serious hostage situation also began to develop inside concert venue Le Bataclan, where as many as 100 people were held hostage and dozens were killed. The violence itself began approximately one hour into band Eagles of Death Metal's show, BFM TV reported, when the assailants entered the stadium and began firing. Reuters reports that at least five explosions were heard nearby the Bataclan, before French police began operations to enter the concert venue.
Unconfirmed reports indicate that a French anti-terror prosecutor has taken over the attacks probe, though no groups have claimed responsibility on the attack so far. Paris police urge residents to stay indoors under all costs, all metros have been shut down, and universities across Paris have closed for Saturday.
Along with Hollande, President Obama spoke about the attack Friday, saying the United States is ready to assist France as needed. "This is an attack on all of humanity," he said. "We stand together with them in the fight against terrorism and extremism."
Image: Thierry Chesnot/Getty Images