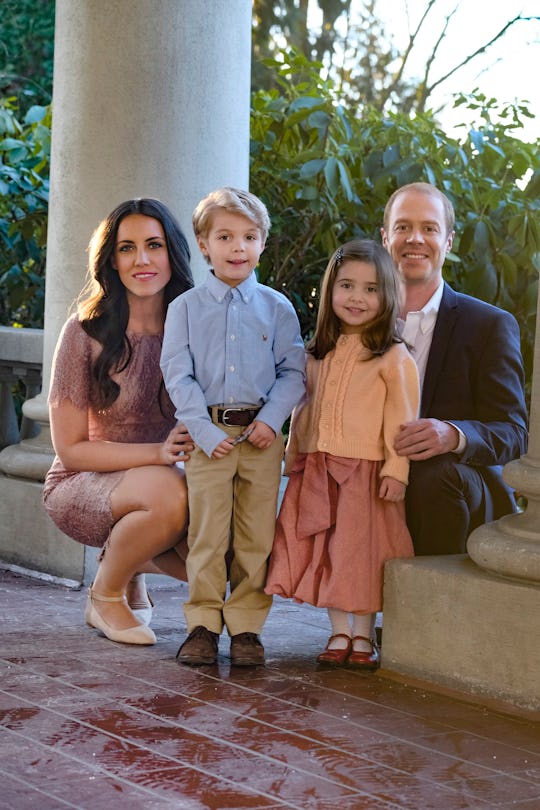 Michael Courtney/Lifetime
Here's Who Plays Princess Charlotte On Lifetime's 'Harry & Meghan: A Royal Romance'
The newest TV movie about a royal falling in love with an American, Harry & Meghan: A Royal Romance, will not only chronicle some of Prince Harry and Meghan Markle's respective childhoods, but will also look at the Duke and Duchess of Cambridge, Prince William and Kate Middleton's, own story a bit. So, who plays Princess Charlotte on Harry & Meghan: A Royal Romance? Briella Wintraub is perfect for the role, as she bares a striking resemblance to the real-life princess and it looks like this might also be the young actress's first ever role.
Since there's no official IMDb profile set up for her, and she doesn't appear to have any other credits under her belt, playing the young Princess Charlotte is likely Wintraub's first role as an actress. This makes sense, though, if she's as young as her counterpart, who is three years old in real life, or at least close to it. Chances are, if Wintraub has had any movie or TV roles before this, they were minimal at best, which makes this an even bigger deal for what could be a long career for the young actress. Upon a quick search, there are a couple of casting directors in the business, though not affiliated with this movie, with the same last name, so there's a chance that Wintraub could have been cast for the role as her first ever role thanks to het talent as well as being related to the right people. However, there's no way to know that for sure of course.
The casting director for Harry & Meghan: A Royal Romance revealed in a video leading up to the TV movie's premiere that they had just three weeks to fill every important role in the story of Markle and Prince Harry's engagement. The same likely goes for filling the roles of the other members of the royal family, even if this isn't about Prince William and Middleton's love story. That being said, it's entirely possible that the casting department took a chance with the actress who plays Princess Charlotte, but even if it was based solely on her talents, it was clearly the right choice, as she looks every part of the real life royal.
At the time of the real life engagement, Princess Charlotte was just two years old, and while it's unclear how old Wintraub is exactly, it probably made more sense to cast an actress who is a little bit older and more capable of handling scenes and holding her own. As with a lot of Lifetime TV movies, the cast is made up of relatively under the radar actors who, even if they've been in plenty of other movies and TV shows, may not be as recognizable as others. For a movie like this, where art is literally imitating lives that are happening right now, it's probably for the best that the actors playing these current historical figures are new to most viewers, including young Wintraub.
Most of the other actors in the movie are more known for their work in their respective countries, like Burgess Abernethy, who plays Prince William and is from Australia. Or Bonnie Soper, who plays Princess Diana and is from New Zealand in real life. The actor playing Princess Charlotte's big brother, Prince George, is Preston Karwat -- another young, up and coming actor. He apparently takes regular classes at The Drama Class in British Columbia, Canada, near where the movie was filmed. That doesn't seem to be the case for the even younger Wintraub, but either way she totally looks the part and this could very well lead to more opportunities for her.