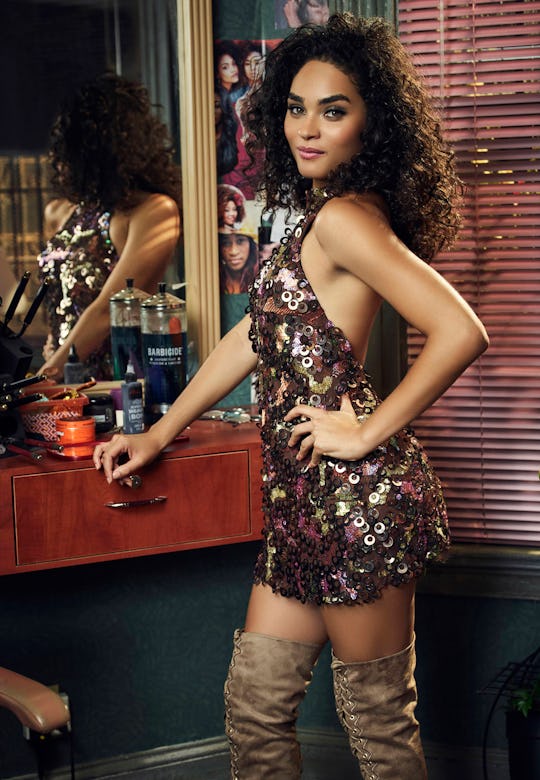 Tommy Garcia/FOX
Who Plays Simone Davis On 'Star'? Brittany O'Grady Has Theater Experience In Real Life
When casting for Lee Daniels' newest FOX musical drama, Star, the process was extensive, with some parts needing up to 10 different audition cycles for each prospective actress. And you kind of have to assume that when they settled on the cast of these modern-day, glamorous central three characters, they found the best actresses for each role. So, who plays Simone Davis on Star?
Brittany O'Grady has experience in theater, with both singing and dancing from an early age. Even if you aren't familiar with the young actress, though, being an experienced performer since the age of four kind of makes you a shoo-in for acceptance. Star has been in the works since 2015, but after finding the perfect cast, with a mixture of newcomers and seasoned professionals like Lenny Kravitz and Queen Latifah, they were ready to start shooting.
Before Star, O'Grady was a regular on The CW's short-lived The Messengers and has a movie coming out in 2017, but FOX's newest drama is likely what's going to set her apart from the rest as she puts her theatrical talents to use on the small screen. But who is the actress who plays Simone on Star? Besides being perfect for the role of the upcoming series, O'Grady has a lot of other things going for her too. For example...
She's Been Doing This For A Long Time
According to O'Grady's website, she's been appearing in commercials and in print ads since she was four years old. Her more recent experience allowed her to be exposed to more theater and TV work, moving her up the ladder, so to speak, but the girl has been doing this for about 15 years. Her first performance, however, was when she played an angel in her church's Christmas pageant at the age of three.
She Has Theater & TV Experience
Long before O'Grady spent a season on the now-cancelled CW series The Messengers, she was heavily into theater. She's been in productions of The Witches of Eastwick, Othello, and The Three Musketeers, to name just a few from her long roster of previous theater acting experience. And in 2017, O'Grady will be in the Emilia Clark film, Above Suspicion.
She's Already BFFs With Her Co-Stars
Star has been in the works for a while now, but it seems like ever since the cast was finalized and filming began, the girls in the show — who play a group of friends who form a girl group — have become real life friends. And that's a beautiful thing. It's also something you almost have to expect when they're working so closely every day, but it makes their chemistry on Star that much more authentic.
She's Basically Fearless
From learning to trapeze to ice rock wall climbing, O'Grady doesn't seem like she's afraid of anything. Of course that mentality might just come with being 19 years old and already a rising TV star, but it's hard to not admire the actress/singer/dancer.
O'Grady stars on FOX's new series Star as Simone, opposite Jude Demorest and Ryan Destiny, and if Empire is any indication of the success that Star will see, it will be yet another Lee Daniels series to make it big on the network.