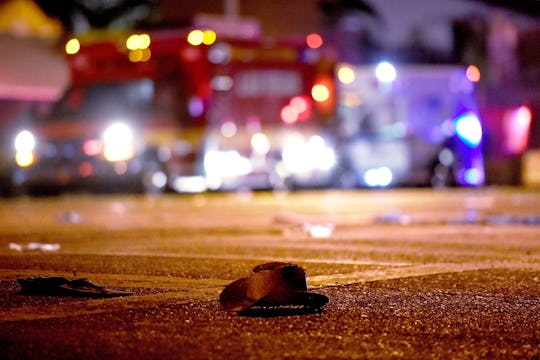 David Becker/Getty Images News/Getty Images
Melissa Ramirez: The Las Vegas Shooting Victim Traveled Hundreds Of Miles For The Country Music Festival
Sunday night's shooting in Las Vegas left crowds terrified, hundreds injured, and a reported 59 dead. As the names and faces of the victims emerge, families and communities are left to try and make sense of such a ruthless act of terror. One of the Las Vegas shooting victims was 26-year-old Melissa Ramirez, The New York Times confirmed on Tuesday.
As a part of its profiles on the victims of the senseless attack, The New York Times spoke with Ramirez's cousin for a window into who the young woman was. Ramirez came from "a big and close-knit extended family," according to the Times, adding that it was her love of country music that drew her to the open-air Route 91 Harvest Festival held at the Mandalay Bay Resort, where a gunman opened fire on the crowd.
The outlet also noted that Ramirez was the "daughter of Mexican immigrants who became United States citizen." Ramirez's cousin, Fabiola Farnetti, told The New York Times, "She always helped her parents, and just wanted to be there."
Ramirez posted an Instagram photo from the festival on Saturday, exclaiming that it was "the start of day two!" Pictured with a friend, she used the Route 91 Harvest festival filter, and smiled in a cowboy hat. Family and friends commented on the post with their prayers on Monday, wishing for her safety. Ramirez's social media accounts gives insight into her life, showcasing her smile, her devotion to the Philadelphia Eagles, adoration of her baby niece, and her constant love for her friends and family.
As of Tuesday afternoon, Ramirez was one of 59 loved ones killed in what has been called the deadliest mass shooting in modern U.S. history. 33-year-old Rachael Parker, a 10-year veteran of the Manhattan Beach Police Department, and Sonny Melton, a registered nurse from Tennessee who saved his wife's life at the concert, are just a few of the victims of the senseless killing.
And the list unfortunately continues. Jessica Klymchuk, a single mother of four, was visiting from Canada. And 23-year-old Jordan McIldoon was also attending from out of the country.
Whereas families and friends should be able to take all the time needed to grieve, it's up to the rest of us to take action and provide support. Donating blood in Las Vegas is a useful, tangible contribution to make. Also, if you're in the area and have experience in trauma counseling and support, your services are sorely needed. Giving money to victims' families "to provide relief and financial support" is another generous step — a GoFundMe page set up by Steve Sisolak, Clark County Commission Chair from Las Vegas, has raised nearly $2 million as of Monday night.
Additionally, regulating gun laws (especially in the state of Nevada which has no required gun registration) in the efforts to prevent history from repeating itself would honor the victims in the most thorough way. So, call your senators, message your officials, and fight for your safety and the safety of others.
The most chilling thought is that Las Vegas might repeat itself, and an amalgamation of small actions could prevent another shooting from eclipsing this tragedy's death toll. Out of respect for Melissa Ramirez — as well as the others who lost their lives in the tragic event — do all that you can with what you have.
Editor's Note: A previous version of this article included quotes that are no longer available. It has since been updated.