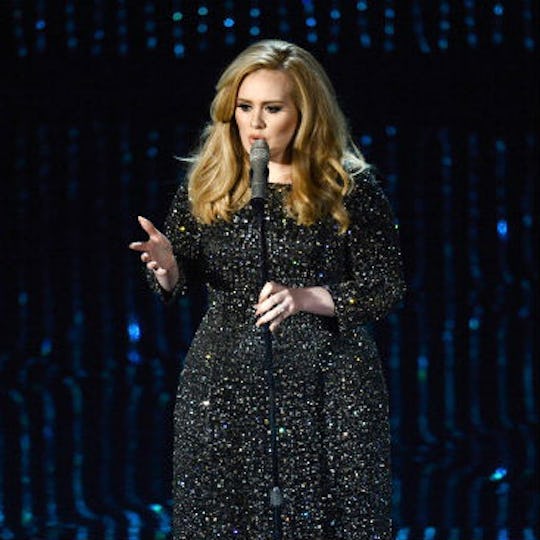 Why "25" Is Adele's Most Feminist Album Yet
Adele is a woman, a powerhouse, a mother, and a (recently disclosed) feminist. Throughout her career, she's blown the world away with her voice — not to mention those record-breaking album sales. And while Adele's music has always been known for its heartbreaking commentary on relationships and breakups, Adele is growing and changing, and so is her music. Her newest album 25 may be her most feminist album yet.
Adele's albums are named for the age she was while working on them, and we first met Adele on 2008's 19. A mostly acoustic, slightly anachronistic record full of sweet songs anchored by Adele's sweeping vocals, 19 was a wonderful introduction to the woman who would shatter records just a few years later. And 2011's 21 did exactly that — selling 30 million copies worldwide, with gut-wrenching songs about heartbreak. But 21 was an album about a man, and 25 is an album about Adele. Her album, which Billboard is predicting will sell over 1 million albums in its first week, shows a new, more feminist Adele, and it seems the public is more than happy to have her back. "Hello," her first single from 25 has already shattered Taylor Swift's VEVO record.
And, as the interviews she's given ahead of the album's release are any indication, feminism looks good on Adele. Here's why 25 is shaping up to be Adele's most feminist record yet.