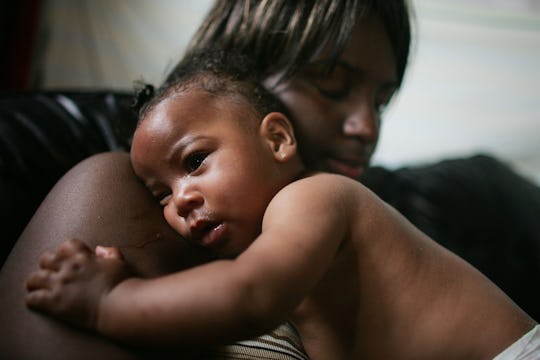 Mario Tama/Getty Images News/Getty Images
Why Black Babies Are More Likely To Die From SIDS
So here's the good news: Infant mortality rates are dropping steadily. Thanks in part to proper education about infant sleep habits (babies should sleep on their backs and without excessive bedding in order to avoid accidental suffocation), SIDS is becoming less prevalent in most areas. Unfortunately, with the good news comes some bad news. Studies have shown that black babies are more likely to die from SIDS. And that, of course, needs to change.
According to the Centers for Disease Control and Prevention, black babies were twice as likely to die from SIDS between 2010 to 2013 as their non-black counterparts. SIDS, or Sudden Infant Death Syndrome, happens when a baby dies before the age of 1 year old. According to the CDC, the "cause of death is not immediately obvious before investigation."
SIDS and SUID (Sudden Unexplained Infant Death Syndrome) remain the number one cause of death in babies between one and 12 months old. But although the infant mortality rate due to SIDS dropped 29 percent between 2005 and 2014, how is it that black babies continue to die at a much higher rate? One of the reasons could be that education about best sleep practices for babies is not provided with equal access for all. And awareness is absolutely essential.
In 2000, the U.S. government launched the "Back To Sleep" campaign. The campaign spread the message that babies should be put to bed alone, in a crib, on their backs in a supine position. Since the initial success of the campaign coupled with the recommendation from the American Academy of Pediatrics that babies should always sleep on their backs, there has been a marked improvement. Around 75 percent of parents in the United States have been following these guidelines (also highly important: make sure to keep extraneous items like soft toys, too many blankets, and bumpers out of baby's crib).
Yet only 31 percent of black parents have done the same. SIDS experts told ABC News that these campaigns to educate parents on imperative safe sleep habits were not reaching people in minority communities because they did not necessarily have access to health care. Some were not able to visit family doctors' offices, where literature and information was readily available. Family tradition also played an important role, according to Ann Brown, commissioner of the Consumer Product Safety Commission. "When you have family tradition, the way it's always been done, that's hard to counteract," she told ABC News.
The ABC News survey also found that black respondents tended to follow family tradition, and that 70 percent were worried about placing babies on their backs because they feared the baby would choke on vomit.
Within the last 10 years, a growing awareness of the lack of medical support in lower income areas has begun to take root. Health educators have begun to move toward providing better postpartum education in minority communities as a way to combat the disparate infant mortality rates, so with the proper support and equal access to resources and health care, perhaps things will begin to change.