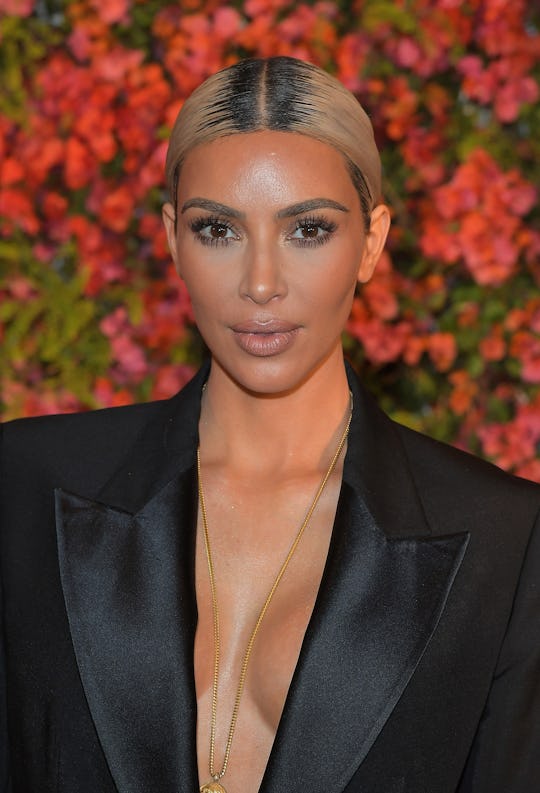 Charley Gallay/Getty Images Entertainment/Getty Images
Kim Kardashian Just Deleted Her Christmas Card Photos From Instagram — But Why!?
After making all of us wait for 25 days of December for a new post of her family, Kim Kardashian just deleted her Christmas card photos from Instagram for some unknown reason. Romper's request for comment from Kardashian's reps was not immediately returned. But, seriously, why did she do this?
UPDATE: Hours after Kim removed the Christmas card photos from her profile, she addressed fans' concerns in a tweet. "Was always the plan. I archieved [sic] them so my instagram feed vibe is back," she wrote. Fans can find Kim's collection of the photos in her Instagram archives.
EARLIER: Since I can't just text her and ask, though that is definitely one of my top Life Goals, I'm going to have to speculate so bear with me. She left the pictures up on her Twitter account, where she simultaneously posted them all month, so it's not like she wants them hidden from view or anything. Kourtney, who was also pretty diligently keeping up with posting the card, also left hers up on the good old 'Gram. Momager Kris Jenner also has a selection of the Christmas card photos still posted on Instagram.
So, here's what I think: She didn't like the way it looked, so she archived them, which really, is exactly what that Instagram feature is for.. Kourtney interspersed her Christmas card posts with other pictures, as did Kris, but on Kim's, it was mostly just the cards (early on in December she posted some throwbacks and a few KKW Beauty pics in there) and it made up a wall of sorts on her Instagram profile.
Sometimes Kim will post multiple pictures from the same event (see this week's "Taco Wednesday" posts with Jennifer Lopez), but 25 all together is a little much. She likes to show off her makeup and clothes and things and maybe she just didn't want to make people scroll all the way through a month of posts to get to see what she was wearing in November.
Most fans are just really confused about the whole thing. I mean, that card basically dictated the daily routine of every single one of us on Kardashian and Jenner Baby Watch this year. Yes, I know how sad that sounds. No, I am not ashamed to admit it. Because despite the fact that the family puts together an epic Christmas card every year, this one had way more meaning. For one, there were 25 of them, posted every day. And we were still waiting for confirmation of both Khloé and Kylie's reported pregnancies.
When Khloé confirmed her pregnancy late in the month, there were so, so many of us out there who assumed that the card was going to be how Kylie confirmed her own pregnancy. Even despite the fact that the sheer timing of the card's shoot and her rumored due date would mean that there would likely be no visible clue.
That was not the point! The point was...well, I don't know exactly what the point of the Christmas card anticipation was, but it sure makes me feel like we've been played now that they're gone from Kim's page. I am not alone here, thank the KarJenner gods.
We're All Broken
I get that she can do whatever she wants with her Instagram account and she's merely archived the pics — which means they might show up in an Instagram Story or something sometime soon. But it really does feel like a lot of build up for a whole lot of nothing.
The fact of the matter is that the Kardashian and Jenner fam have made their point. All the poor souls like myself addicted to all the news surrounding them have been played, and it's entirely possible that they're getting a great big laugh from it.
First they had us checking for the card every day, then hypothesizing about some family drama we all made up to account for Kylie's absence (for real, though, where the heck is she?), and then Kim just goes and deletes the "evidence." Why, Kim, why?
Check out Romper's new video series, Romper's Doula Diaries:
Watch full episodes of Romper's Doula Diaries on Facebook Watch.