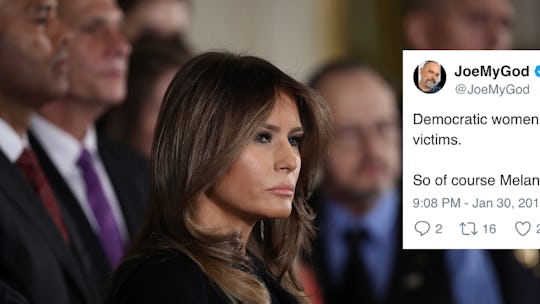 Win McNamee/Getty Images News/Getty Images
People Think Melania May Be Making A Statement With Her State Of The Union Outfit
On Tuesday night at the State of the Union, some members of Congress planned to wear all black in solidarity with the #MeToo and Time's Up movements, raising awareness about sexual harassment, assault, and gender inequality. Which is why Twitter was very confused as to why Melania Trump wore all white to the SOTU. What kind of message was she trying to send? Romper's request for comment from the White House was not returned at the time of publication.
Melania showed up in a white pantsuit with a silk shirt and her signature high heels. She looked powerful and put together, per usual. And, to be fair, she often wears white outfits. But when a first lady gets dressed in the morning for events, there are a lot of things to consider. It matters — remember when the first lady wore pumps and capri pants to go visit Hurricane Harvey victims last fall? Unlike us regular folk, what the first couple wears sends a message to people.
During the State of the Union members of Congress and their guests could choose to wear certain things in the name of a protest or raising awareness. Some legislators wore purple ribbons for opioid awareness, for example. Women in particular planned on wearing all black to align themselves with the Time's Up and #MeToo movements in an attempt to call out rampant sexual harassment and assault in basically every single industry.
So, Why Didn't Melania Get The Memo? Here's Her Entrance
Some Loved That She Chose White
But More People Saw It As An Affront To Women
The reactions were mixed, as always. Some people thought that her wearing white was a great way to "clap back" at Democrats and those who want to draw attention to her husband, who has been accused of sexually harassing or assaulting more than a dozen women, according to TIME. (Romper's request for comment from the White House regarding these allegations was not immediately returned.) Others just assumed that Melania didn't care about the all-black protest to raise awareness for women who are the victims of toxic masculinity in the workplace. To be quite honest, I'm not sure what's worse.
Despite the fact that the media and people on social media sometimes joke that Melania looks "bored" or isn't close to her husband, using their body language as evidence that something is up with them, the first lady has often come to her husband's defense. In some of his worst moments, too.
Back in October 2016, Melania defended her husband after the Access Hollywood tape, on which he bragged about "grabbing" women by their vaginas and not being able to refrain from forcibly kissing them, according to The New York Times. She told Anderson Cooper that it was the first time she had heard her husband talk like that, according to CNN:
I heard many different stuff — boys talk. The boys, the way they talk when they grow up and they want to sometimes show each other, "Oh, this and that" and talking about the girls. But yes, I was surprised, of course.
The first lady added in the same CNN interview, "I said to my husband that, you know, the language was inappropriate. It's not acceptable. And I was surprised, because that is not the man that I know." She then pivoted to questioning the "background" of the women that accused her husband of misconduct and their motives for coming forward.
Once, she defended the president's tweets about MSNBC host Mika Brzezinski, who he said was "bleeding badly from a face lift" when she reportedly once "begged" to come to one of his resorts, as The Washington Post reported.
It was a vicious and mean attack, but the first lady's spokesperson, Stephanie Grisham, issued a statement at the time saying that the first lady stood by her belief that her husband was right to "punch back ten times harder" when he is attacked, according to ELLE.
Given her public statements about the women who have come forward about her husband and her victim-blaming in the past, it's not implausible that the first lady heard about the all-black protest from women in Congress and decided to do something noticeably different. Or, she just likes to wear white and didn't feel that it would matter. We might never actually know what the first lady's thinking, and frankly, she doesn't seem all that concerned about that either.