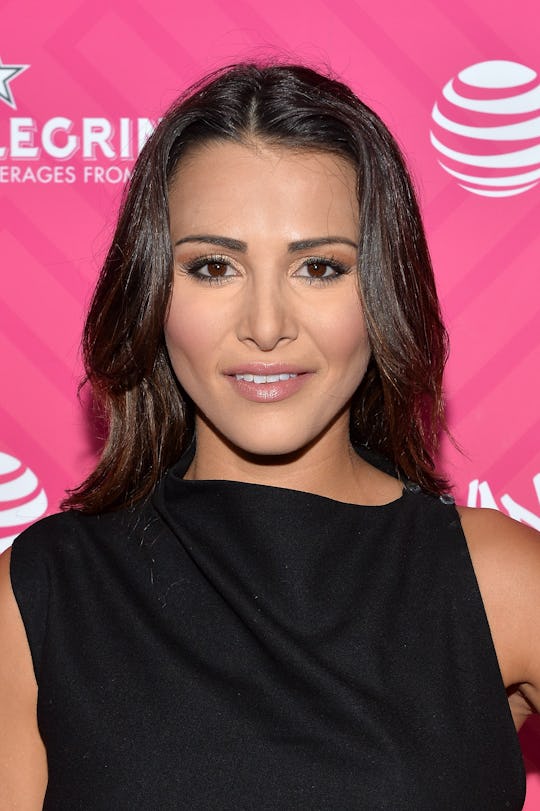 D Dipasupil/Getty Images Entertainment/Getty Images
Andi Dorfman Pays Nick A Visit On 'The Bachelor'
You knew they weren't going to give Nick Viall The Bachelor without putting him through the ringer before his season was over. First, his one night stand from several months ago, Liz, appeared as a contestant, and later Nick had a near breakdown as he tried to figure out the best way to proceed without hurting more women. And now, another face from his past has shown up, but why did Andi Dorfman visit Nick on The Bachelor? The former Bachelorette and woman in Nick's heart wasn't the first person to show up and put him in a tizzy this season, but she's probably there for a good reason.
It was right after Nick ended his last hometown date and things were obviously kind of up in the air as far as who he would choose to go on. The suspense was super high and in walked Andi at Nick's hotel. Since the rose ceremony took place in New York, where Andi lives, and he can probably use some Bachelor Nation help right now, her intentions are likely pure.
Honestly, it's not that surprising to see potential drama like this on The Bachelor, but it certainly took long enough for someone else in Bachelor Nation to show up. I honestly suspected 'The Twins' Haley and Emily Ferguson, who were his resident BFFs on Bachelor in Paradise, would show up much earlier on to give the Bachelor some advice. But this probably makes more sense.
At a time when Nick is having a difficult enough time sorting out his feelings on The Bachelor, Andi has more than likely shown up to help expedite the process, though it's going to be at least kinda weird talking about this stuff with an ex. In case you need a refresher course, Nick and Andi met when he appeared on her season of The Bachelorette and became her runner-up after she opted to get engaged to Josh Murray instead. (The duo ended up splitting five months after the finale.)
But before Season 21 of The Bachelor even started, Nick appeared on Jimmy Kimmel Live with both Andi and his other former Bachelorette flame Kaitlyn Bristowe and all seemed pretty normal between them. Needless to say though, Nick and Andi have some real history that goes beyond a few candlelit dinners on The Bachelorette and a zero gravity date. Or, you know, whatever other unorthodox date was planned for them while they filmed together.
These days, Andi seems happy to be single and looking while still promoting her book on her Instagram. Fans knew from the promos for The Bachelor that someone would be knocking on Nick's hotel room door in New York, and it really only could have been one of a few different women, but Andi's appearance on The Bachelor was still pretty surprising. In the promo for the next episode of The Bachelor, Andi is making herself comfortable in Nick's hotel room, but it probably isn't what it seems.
While it would be amazing and totally dramatic to see Andi put herself in the running to win Nick's season of The Bachelor, she's probably just there to lend him some advice, from one former Bachelorette to the current Bachelor.
Much like several former Bachelors talked to Nick before his season officially began, Andi is probably on The Bachelor to do the same, now that he's so close to the end of his season. I don't know if she's going to play a huge role in helping him choose who to keep around for the impending fantasy suite dates, but a little extra advice certainly couldn't hurt.