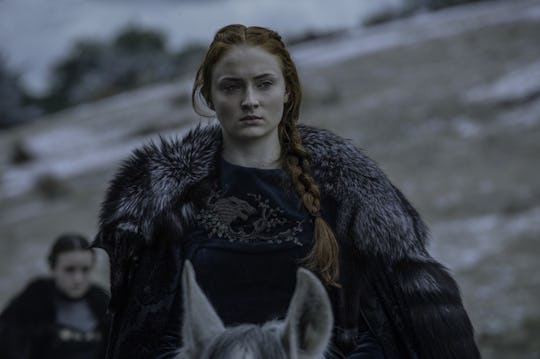 Helen Sloan/HBO
Why Wasn't Sophie Turner Nominated For A 2017 Golden Globe? Her Absence Is Notable
The Golden Globes are here; the one award in which television and film are ranked side by side, which they definitely always should be. As usual, there were some shows and movies that were expected to win big in almost every category but, also as usual, there were some surprises and a few disappointments. Why wasn't Sophie Turner nominated for a 2017 Golden Globe? Though the Game of Thrones actress was expected to be nominated for Best Supporting Actress, she was conspicuously absent from this list at the Golden Globes.
This is not the first time Turner has been snubbed by the powers that be when it comes to awards season. While Lena Heady, Emilia Clarke, and Maisie Williams all received Emmy nominations for Best Supporting Actress for Game of Thrones, Turner somehow didn't rank. At least for the Golden Globes Heady was the only one to make the list, along with Olivia Colman, Chrissy Metz, Mandy Moore, and Thandie Newton. All of these women did incredible jobs this year and are completely deserving of their nominations, but I'd still like to see Turner get a little more love than she has so far for her performance (which has arguably only gotten better as the years progress). ‌
Like every character on the show, Turner's Sansa Stark has been put through the ringer, and has undergone more trauma than any human should be capable of enduring. First her direwolf is unjustly executed, then she watched as her father was beheaded, was abused by her psychopathic fiancé Joffrey, used as a pawn by her mother and family friend Littlefinger, lost her mother and brother, sold off to yet another psychopath and was further abused and raped, and then lost another brother just because. Throughout all of this, Turner has put everything she had into her portrayal of a young woman who's grown into a rather formidable figure in spite oh her continued adversity.
Sansa started the series as a young, weak, and naive little girl, far less likeable than her plucky younger sister. Yet she has grown into a strong, intelligent woman. These days, it wouldn't be wise to mess with Sansa Stark. Over five seasons, Turner has portrayed this character growth with elegance and subtlety that is deserving of more recognition by whoever it is who decides on these nominations. She may not be as seasoned an actor as her co-star Lena Heady, but she's definitely got the raw talent.