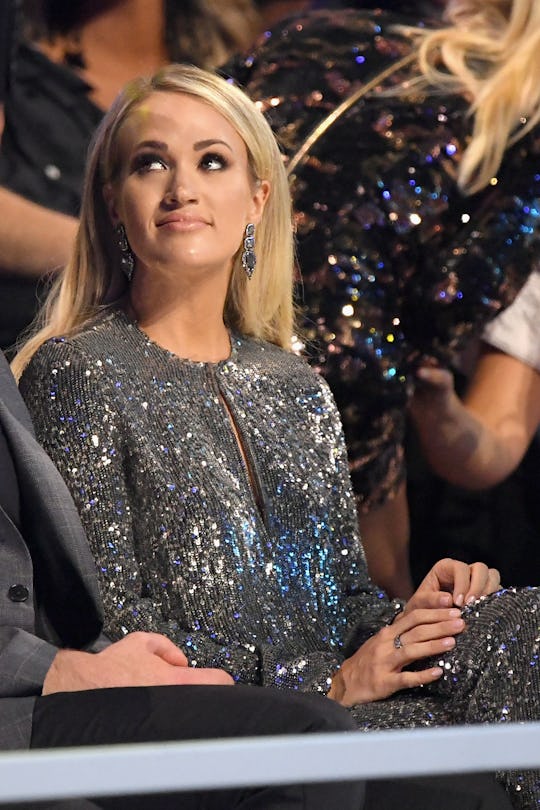 Mike Coppola/Getty Images Entertainment/Getty Images
Carrie Underwood Is A Little Worried She Might Spill The Beans About Baby No. 2's Sex
Sometimes it's a relief to know that celebrities aren't so different from the rest of us. Like so many moms-to-be who were determined during pregnancy to not blab all the details, but then broke down and told everyone everything, in sheer excitement, a certain country singer who's expecting her second child isn't sure she can actually keep a secret for too long. In fact, Carrie Underwood is worried she might reveal her baby-to-be's sex at some point in the near future.
The revelation came when Underwood spoke with iHeart Media, according to PopCulture, and told radio host Cody Alan that, although she herself does not know the baby's sex yet, by the time she does, she may be in full promotion mode for November's Country Music Awards, which she will be co-hosting with Brad Paisley for the 11th time, according to the the Daily Mail.
"I don't know. That seems like a long time to wait once we know," the 35-year-old star — whose next album, Cry Pretty, hits in September, and who has announced a tour for May, 2019 — told Alan, according to PopCulture. "I'm bound to screw up some place and say 'he' or 'she.' We haven't quite started our full-on CMA meetings. So we'll see."
Underwood has reason to be paranoid: Old friend Paisley sort of announced the singer was having a boy during the 2014 CMA's, according to Country Music Television. After begging her to tell him the baby's sex on the air, Underwood apparently whispered the answer to the country star, according to CMT, after which he told the crowd, I'm so happy I know something y'all don't. Suck it, TMZ!."
But only a couple minutes later, when mentioning Garth Brooks' comeback, Paisley remarked that Underwood and Fisher could name their as-yet-unborn little one Garth.
"What's wrong with you? You gotta be kidding me. You kept that secret for a whole two minutes," Underwood shot back, according to CMT. Paisley later tweeted about the incident; he obviously wasn't too worried about Underwood's wrath. But clearly, the CMAs are a dangerous place for Underwood to try to keep secrets...
If no one else blurts the news out for her, only time will tell if Underwood herself can keep her lips sealed when she does find out (or else if she'll be so excited, she'll post a big reveal celebration, like Kate Hudson and Hilary Duff have). In the meantime, though, it can be surmised that Underwood and former hockey pro hubby Mike Fisher — parents to 3-year-old Isaiah — should be expecting the new baby sometime next February or March, before she goes on tour.
On her pregnancy reveal video posted on Instagram, the singer enthused that "Mike, Isaiah and I are absolutely over the moon and excited to be adding another fish to our pond. This has been a dream come true." And as she told Alan on his radio show, adding to the excitement of having another baby is the fun of getting to watch your first kid become a sibling.
"...I was like, 'There's a baby in there,' and he was just super sweet about it," Underwood explained of Isaiah's reaction thus far, according to PopCulture. "He was a little confused, not really knowing how that got there. I just told him 'God put it there,' and [he] accepted that answer. He's just gonna be a good big brother. He's a good little guy."
Between Underwood's new album and the baby news, there's so much going right these days for the Nashville-based performer, who also returned to her roots, the American Idol stage, this spring to perform, according to her official website. Luckily, it's a far cry from last year, when an accident outside her home landed her in the hospital, requiring 40 to 50 stitches, according to People.
Aside from stardom, though, Underwood sounds as down-to-earth as you can get as far as knowing that a second kid will change everything. "It's going to be a different ball game, for sure," she recently told the Tennessean. "I'm such a planner. I want to know how it's all going to go. But no matter who you are, you make it happen, you make it work."
While I love the singer and it would be fun to hear more details about her baby-to-be before he or she arrives, I hope for Underwood's sake, she (and Brad Paisley...) is able to keep any upcoming news about her bundle of joy to herself, if privacy is important to her and her family.