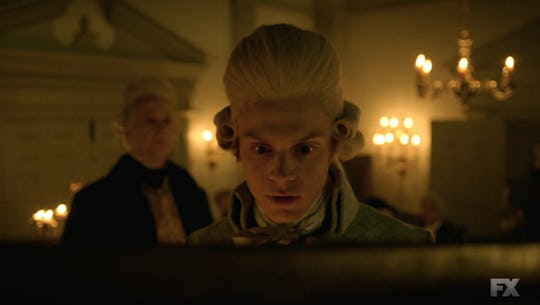 FX
Will Evan Peters Return To 'American Horror Story: Roanoke'? Ryan Murphy Teased A New Role
This season of American Horror Story has been steeped in mystery and general WTF-ery ever since it debuted back in September. Over a month into AHS: Roanoke, I think it's fair to say that we still have relatively little idea what's going on – from the show's brand-new use of a documentary-style format, to the way the season's story apparently ended abruptly after Episode 5, all we have are questions. One of the most urgent questions plaguing viewers right now has to do with a fan-favorite's future this season – namely, will Evan Peters return to American Horror Story: Roanoke?
Peters has had major roles in every season of American Horror Story thus far. Arguably, though, the importance of his characters relative to the season they appear in has been waning over the past few years. Tate Langdon, his first character who appeared in Season 1's Murder House, is still one of the most popular (and most gif'd) AHS characters in any of the seasons to date and was hugely influential throughout that story.
Compare that character with his Season 5 role as James Patrick March, a murderous and sadistic ghost who didn't even show up until the second episode of the season. Don't get me wrong; Mr. March was a fabulous role and Peters, as expected, played him fabulously. But there's no arguing that March got as much focus or was as integral to the plot as Tate, Season 2's Kit Walker, or Season 4's Jimmy Darling.
Fans were eagerly awaiting Peters' debut in the current season of AHS, excited for any glimpse of him. The most popular theories were that he would be playing the IRL version of the red-headed cop from the re-enactment, the Pig Man, or a producer behind the scenes of "My Roanoke Nightmare." All of those guesses turned out to be off the mark. After waiting a horrifying four entire, Evan Peters-less episodes, we found out that he was playing Edward Philippe Mott, the socially-anxious, gay, reclusive ancestor of Season 4's villain Dandy Mott.
His appearance was definitely worth the wait – Edward Mott was a role entirely unlike any other AHS role Peters had played, a period role with an uber-accented, campy element similar to that of Peters' Mr. March performance.
Unfortunately, good ol' Eddie was dead within what felt like moments of appearing onscreen, one of the Butcher's earliest victims bled dry to consecrate her land. Even though he appeared again in his ghostly form later in the episode (twice) to lend an assist to Shelby and Matt in their escape from the Butcher, it was clear that Edward Mott's role in the story was over when the Millers did manage to escape from their super-haunted house.
Fans were, to put it mildly, a little bit outraged that they'd been deprived of Evan Peters for so much of AHS: Roanoke, only to then have him appear in the briefest of capacities.
Luckily, our prayers have been answered, courtesy of Ryan Murphy's interview with E! earlier this morning. In it, he confirmed that Peters, along with several other members of the core cast, would be returning for the second half of the season, playing a different character. This is the first time in the show's history that the actors have completely switched who they were playing midway through a season, and it's part of the jaw-dropping twist Murphy has been talking up all season.
Murphy had nothing but good things to say about Peters' appearance in the latter half of the season, calling the new role his "favorite thing [Peters has] done."
"Evan Peters in episode six is one of the greatest, most hilarious things Evan has ever done and he loved it. He's a very big, pivotal part of episode six, playing a completely different character than what we've seen him play. Evan is just the best, I love him."
So not only will he be returning – it seems like he's set to become even more important in the final five episodes. It's basically a dream come true for any disgruntled Peters fans who were unhappy with his very minor Edward Mott appearance.