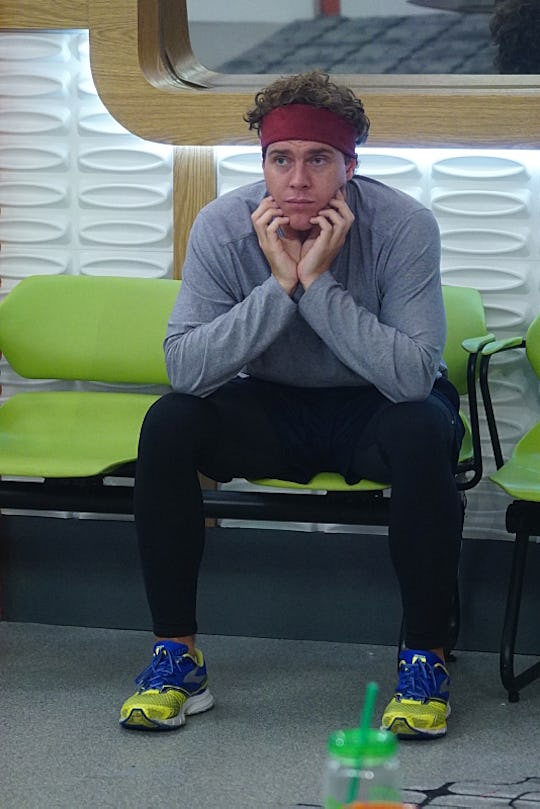 Sonja Flemming/CBS
Will Frank Be Evicted From 'Big Brother'? He Tried Hard To Change The Votes
From day one this season on Big Brother, Frank has played a strong game that kept him in the house despite having hella enemies and needing to switch up his alliances almost every other episode. But playing that way has its consequences, and he's made himself into public enemy number one, so will Frank be evicted from Big Brother Thursday night? On Wednesday's episode, he worked as hard as he could to change Michelle's mind about using the power of veto on him, but everyone else in the house made it pretty impossible to plead his case to her as best as he could.
Unfortunately, Bridgette is also up on the block with Frank, and while she'll definitely have Michelle's vote when the eviction ceremony comes, everyone else in the house will likely shoot to get Frank out. As it stands, the remaining houseguests aren't crazy about Frank anyway, so even with another disliked houseguest up on the block with him, more houseguests want to get Frank out of the Big Brother house more than Bridgette. Basically, the only vote Frank will be spared might be Michelle's, but obviously that will be nothing in terms of being able to help him stay in the house.
So far on Big Brother 18, Frank has been seriously lucky. Winning the Roadkill competition twice and then being able to control Bridgette when she was the head of household is a lot more than most houseguests can hope for. But that's where his luck ended this season. He was given a second chance in the Big Brother house, but playing he game so recklessly is unfortunately going to cost him the chance to continue this season on in Big Brother 18.
You have to hand it to him - he was this close to getting Michelle to use the power of veto on him and winning her over, as he had done so many times before with other Big Brother houseguests, but in the end, she gave in to what the rest of the house ultimately wanted. And while it's not easy to see almost an entire house so ready to nearly unanimously get rid of another houseguest, it's pretty obvious that Frank's time has come. Even if he somehow managed to stay, pretty much any houseguest would use the next opportunity to put him up again. We saw what happened when Tiffany was put up multiple times. Eventually, she was sent home.
So will Frank be evicted from Big Brother 18 now that he's made it clear that he's pretty much lost the power to snag anyone else to join forces with? It looks like that's going to be the case and, barring some head of household competition miracle, Bridgette will likely be close behind.