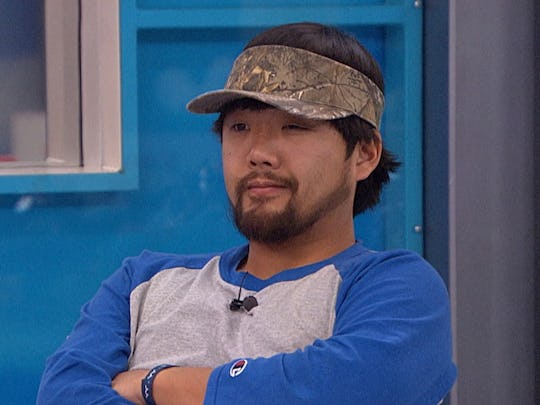 Will James Win America's Favorite Player On 'Big Brother 18'? He Did It Once Before
If there was an award for the Big Brother houseguest with the sweetest personality, sunniest disposition, and all around good guy attitude, then James Huling would be a shoo in. And if that's what America is looking for in their favorite player, then he's golden this season. But when it's all said and done, will James win America's Favorite Player on Big Brother 18? He won the title and $25,000 prize last season when he was on Big Brother 17, so that could either make it all the more possible this season or hurt his chances really badly.
On the one hand, he's proven himself to be a good guy again, not necessarily playing the game as he should have or as ruthless as he needed to, but we all still love him. But on the flipside, James did already win the title of America's Favorite Player, so based solely on fairness, should he even get it again? Of course there's nothing in the Big Brother rule book (I think) that says James can't win America's Favorite Player multiple times, but when you think about all of the other players this season who could be just as deserving, it doesn't seem totally right.
Still, James played the game alongside everyone else this season and even made it to the final four houseguests, so doesn't he kind of deserve it? Although it's hard not to love everything about our Jamesy, let's take a look at both sides of the coin.
James Will Win America's Favorite Player
Even though he hasn't been backstabbing other houseguests too much and when he has, he's been super apologetic (which, spoiler alert, isn't really the way to be, as if gets you nowhere in this game), James has been in the house, playing the game all season. And the fact that he's been a nice guy all along, never faltering from his do-what's-right personality trait, might be what makes him America's Favorite Player for the second year in a row. And sure, there have been countless online campaigns against houseguests like Nicole or Paulie for their own ruthlessness when it came to their games, but James has never gotten much hate. If anything, fans dislike him because he's too nice, which shouldn't even be a thing. As a good guy who has made it this far by being a good guy in the Big Brother house, James could very will win America's Favorite Player again.
James Won't Win America's Favorite Player
Just like there are fans who love James for being a prankster and full of life and light on Big Brother 18, there are those who see that sort of behavior as unnecessary when there is a high stakes game at hand. So to that tune, they might find him undeserving of the prize that America's Favorite Player affords him. He's also been mentioning the AFP title in the house throughout the season, mostly on the Big Brother live feeds, which fans have found to be annoying at some points. They've even accused him of mentioning it so often and being such a nice guy in order to get that prize specifically. I mean, he probably doesn't not want it, but chances are, he also wants the grand prize of $500,000.
So, will James win America's Favorite Player on Big Brother 18? He is pretty much the same guy he was last season when he won and at the very least, he could get some sympathy votes from Natalie naysayers, but at this point, it could still be anyone's prize.