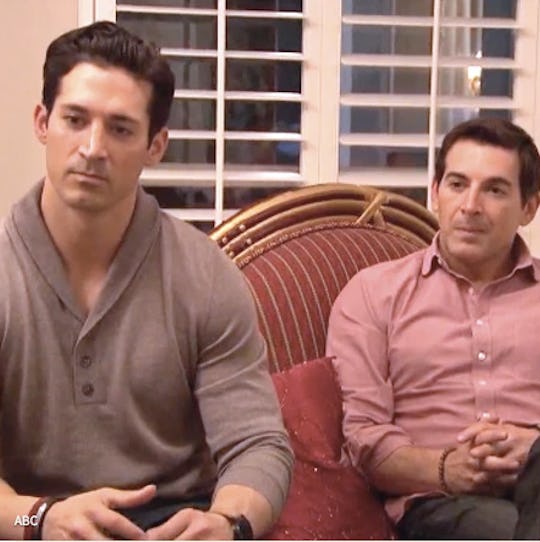 ABC
Will JoJo Fletcher's Brothers Be On 'The Bachelorette'? Next Season Comes With Built-In Skeptics
While all of Bachelor Nation collectively rejoiced at the announcement that Joelle "JoJo" Fletcher is the 2016 Bachelorette, two gentlemen in particular come to mind who were probably a little miffed that they'd have to endure watching her date 25 guys at once, her brothers, Ben and Martin Patton. So the question remains: will JoJo's brothers be on The Bachelorette in spite of their comments during Ben Higgins' season?
We can probably count on seeing Ben and Martin Patton in JoJo's hometown episode, which will likely include a lot of cowboy boots, rodeos, and possibly a romantic date on the field of the AT&T Stadium, home of the Dallas Cowboys. But boy, do I feel for whomever has the misfortune of meeting JoJo's family on that date. Ben and Martin were less than hospitable to Ben Higgins when he visited JoJo during her hometown episode, and they were definitely skeptical about their sister's participation on the show itself.
The particular skepticism that the two brothers had when JoJo brought Ben home doesn't exactly bode well for her potential suitors on The Bachelorette. The two certainly out alpha-ed Ben, so there's no telling how they might respond to a larger group of men.
That being said, maybe Ben and Martin will have a different take on the show now that their sister is calling the shots. They told Ben that he had the women "brainwashed," but now, JoJo's in control of that. Will they feel the same way, or will they sing a different tune now that the show is in their sister's favor?
Ben Patton, JoJo's former-reality show brother, posted a photo on Instagram that shows that he's fully supporting his sister's journey on the show. Even though it's not a ton to go on, it seems that he's totally in his sister's corner when the show premieres.
I personally can't wait to see how the brothers handle JoJo's meet-the-family date. Will they grill the guys, or will they take a backseat and let their sister run the show? I think that there's opportunity to find a happy-medium, just because it will be hilarious to watch the potential suitors squirm.