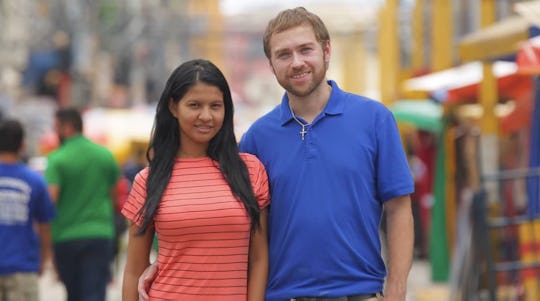 TLC
Karine & Paul From 'Before The 90 Days' Are Having Some Trouble In Paradise
Not every relationship on 90 Day Fiancé: Before the 90 Days actually works in the long run. But one couple, Paul and Karine, actually did decide to tie the knot. Except now some fans are wondering: will Karine and Paul get a divorce on 90 Day Fiancé: Before the 90 Days?
In general, the point of Before the 90 Days is to see if couples who met online can really have an in-person connection, before they have to go through the long process of obtaining a K-1 visa. On the show, the American member of the couple travels to the other's country for the first time in order to establish the in-person relationship and start the visa process, according to the show's page on TLC.com. Spending all that time apart and then a whirlwind romance before a wedding can undoubtedly lead to some friction — and maybe even a divorce. Now, some fans are concerned that's exactly what's happening with Karine and Paul.
In a recent Before the 90 Days clip, Karine is seen asking for a divorce from Paul only two weeks after they said: "I do," according to In Touch Weekly. The fight seemed to stem from Paul calling Karine's brother a thief, and she says in the clip, after translation:
Paul said we didn't need to lock the doors anymore because the thief was inside, and that hurt me a lot and I didn't want to talk to him anymore because he was offending my family.
Paul clearly tries to work things out with his wife, but she seems disinterested in the video above. He apologizes for offending her family and her culture, and says he wants to work through the whole thing with her, still via a phone translation app, but she declines.
"So you just want to give up and get divorced?" Paul asks. Karine nods, and when Paul asks her why she wants a divorce, she simply leaves and shuts the door behind her. Yikes.
The fight appears to be about Karine's brother and friends eating the weeks' worth of food Paul bought, according to Reality Blub. That seems like something small to want a divorce over to me, but it's clear that this is hardly the only issue plaguing the young couple.
Karine had some doubts about marrying Paul right up until they got married, so between that and their bickering, it wouldn't be a huge surprise if they got a divorce. Even now, it's unclear whether they live together, and whether they're in the United States or Brazil.
Just two days ago, Paul posted a photo of the couple on his Instagram, with a caption that suggested they had traveled together. That doesn't really suggest that the couple is divorced, although stranger things have happened.
Fans were also quick to point out that Paul is covering Karine's stomach in the photo, and there's been some talk lately that Karine might be pregnant, In Touch Weekly reported. Karine has definitely talked about wanting to have a baby and be a mom, and while she could do that even if the couple was divorced, it's not completely clear that she's expecting or that the couple have legally separated.
90 Day Fiancé: Before the 90 Days airs Sunday nights on TLC, and fans will just have to keep watching to see whether or not Paul and Karine managed to work out their issues and not get a divorce after all, or whether they do get divorced and the whole thing is captured in true reality TV show style.