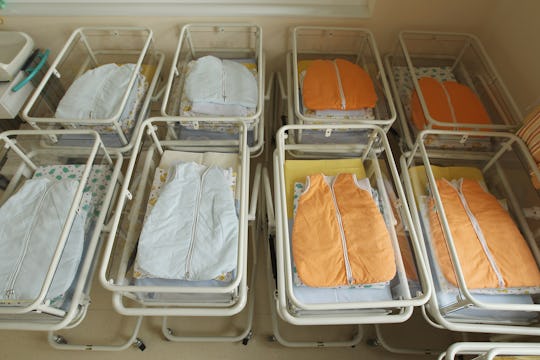 Sean Gallup/Getty Images News/Getty Images
The Fate Of Kids With Chronic Illnesses Under "Trumpcare" 2.0
President Trump's administration had a series of unfortunate events throughout its first 100 days of existence. Despite his many promises, no wall construction has been started between the United States and Mexico. An attempted travel ban against Muslim-majority countries was blocked by the courts not once, but twice. And, of course, the attempt to repeal and replace the Obama-era Affordable Care Act with the American Health Care Act was tabled in March. With the future of health care in limbo, parents want some questions answered. Many are wondering whether or not kids with chronic illnesses will be covered under the new health care proposal, and how they are supposed to take care of their sick child without health coverage, should they be dropped from their current plans or if they need it in the future.
The original health care proposal crashed and burned because of an overwhelming lack of support from ultra-conservative Republicans like the House Freedom Caucus. This conservative group of GOP representatives were dismayed at the similarities between the new AHCA and Obamacare. According to The Washington Post, they wanted something totally different. And so, Republican Reps. Tom MacArthur (a moderate from New Jersey) and Mark Meadows (chair for the House Freedom Caucus) sat down together to author the MacArthur Amendment. A move meant to appease far-right leaning Republicans... but one that would leave people with pre-existing conditions and children with chronic illnesses essentially out in the cold.
As it stands right now, Obamacare offers federal protections that do not allow insurance providers to charge people with pre-existing conditions more for their health care. If this new health care bill is passed with the MacArthur Amendment, states will be able to apply for waivers to the federal government that would allow them to opt out of this rule, giving each state the freedom to reevaluate, and giving insurance providers the opportunity to charge higher fees for people with pre-existing conditions. This includes children with chronic illnesses.
Caregivers of chronically ill children, as well as others with pre-existing conditions, would be given the option of paying into a high-risk pool (which each state would be required to provide) in exchange for a waiver. Unfortunately, high-risk pools have a history of being unreliable. As Dylan Scott of Vox pointed out, "The historic problem for high-risk pools is that they didn't have enough money to cover sick people." Which would naturally render the entire concept futile.
The light at the end of this especially dark tunnel appears to be that many GOP representatives are uncomfortable with the MacArthur Amendment. In the past few days, two Republicans voted against the AHCA, and both cited the state waiver option for people with pre-existing conditions as their main concern. Montana Rep. Billy Long, one of the "no" voters, said in a statement:
I have always stated that one of the few good things about ObamaCare is that people with pre-existing conditions would be covered. The MacArthur amendment strips away any guarantee that pre-existing conditions would be covered and affordable.
It seems that even cynical politicos may find leaving chronically ill children without access to health care unpalatable. A step in the right direction... one can only hope.