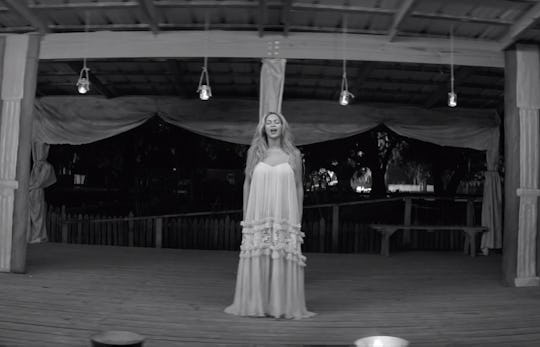 HBO
Will 'Lemonade' Air Again? It Looks Like Another Screening Party Could Be A No-Go
Beyoncé opened her Formation World Tour in Miami Thursday, sending another shock wave throughout the internet, the Beyhive, and probably a neighboring solar system as well. Just this past Saturday, the singer surprise-dropped Lemonade, an absolutely enigmatic, killer 12-track album that seems to direct burn after burn at her husband, Jay Z, for an alleged infidelity. Then Thursday, in the plot twist of all plot twists, she goes and dedicates "Halo" to her "beautiful husband" on stage. You guys, I'm super confused (but I've still been jammin' to "Hold Up" and "Sorry" all day in my socks!). Now, all I really want to do is go back and re-analyze that absolutely spectacular hourlong visual component to the album that aired on HBO Saturday night. I have a hollow hope that Bey will reveal her secrets to me. So will Lemonade air again, or am I out of luck?
The answer seems to be a resounding no. Rather, the internet is just like, "We don't know! Bey is essentially the Chamber of Secrets, but super talented and sexy! She alone possesses the antidote to our collective brain freeze", all while thinking in the backs of their minds, "She's never coming back."
Alas, Beyoncé has not announced any plans to air her masterpiece again. Right now, fans — who are quickly turning into diehard whackadoodles — can pay to download both the album and the film on both iTunes and Amazon. Those who'd prefer to stream can subscribe to TIDAL, the streaming service Jay Z co-owns, or just sign up for the free monthlong trial. And even though TIDAL very recently claimed it would remain the only streaming service with access to the album "in perpetuity," every track currently lives on the internet radio Pandora as well, as of Wednesday. Beyoncé, I love you, but I just don't know what to believe anymore.
It's like trying to read hieroglyphs, I'll tell ya what. But it's also not like that at all, because not only is everyone blasting "All Night" from car windows and crooning "Sandcastles" in the shower, the project as a whole has inspired everything from important analyses of its contribution to black feminism to ultimately frivolous (but still very fun) investigations into the identity of "Becky with the good hair."
It's honestly a lot to deal with, so I understand if you're still recovering. And if you're a TIDAL holdout/cheapskate, you can get hype for any future TBD Lemonade viewing parties with the trailer below. But only when you're ready.