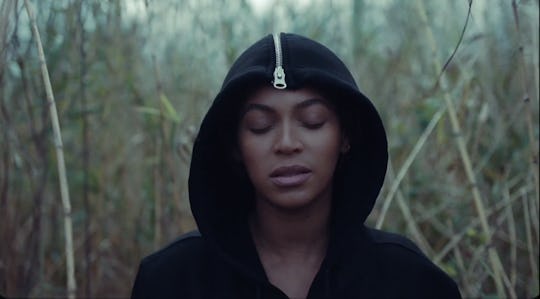 HBO
Can You Listen To Beyonce's 'Lemonade' On Pandora? It's Even More Accessible Now
Tidal holdouts, rejoice! Whether you've been boycotting the music streaming service owned by Jay Z — rapper, mogul, and perhaps the most famous man in the doghouse after his wife surprise-dropped an album that sounds a lot like an indictment of his alleged cheating ways — because of said suspected infidelity or because you're not about to pay the $9.99 per month, you're in luck. You can now listen to Beyoncé's Lemonade on Pandora, even though you'll have to look elsewhere for the unprecedented hourlong visual component.
The internet is still speculating about Lemonade, which premiered as a stunning spoken word-film-music video conglomeration on HBO Saturday night, immediately followed by the release of the full 12-track album exclusively on Tidal. Among the most pressing questions are: Who the heck is Becky with the good hair? Was the whole thing about divorce? If Bey really was trying to throw some shade at Jay, then why did she unveil what is undoubtedly the biggest album of the year — nay, the millennium — on his fledgling streaming platform, a move that has been a boon for for his business, if not for his image? (Let's not forget, though, that Bey is a Tidal stakeholder herself.)
Beyoncé is intensely private and also a public relations genius, so all we have is speculation.
Just after the film component vanished from HBO and everyone was like, "Does this mean I have to subscribe to Tidal now?", the whole shebang became available on iTunes for a whopping $17.99, and Amazon offered a preorder option for a Lemonade CD/DVD set. (The CD/DVD version of Lemonade will be available May 6.) Its exclusivity period on Tidal was much shorter than that of two other high-profile releases there: Kanye West's The Life of Pablo and Rihanna's Anti. Anti was a Tidal exclusive for a week after its January release, while The Life of Pablo lived just on Tidal for nearly two months.
If Beyoncé keeps up with her tight-lipped ways, we will likely never know for sure how much of Lemonade is truly autobiographical, because it seems now that how much of Beyoncé we get it exactly how much of Beyoncé she wants us to get. So she can very well release an album that's an F-you to her husband, get that husband to make a contrite cameo, and then release the whole thing on his streaming service, before bopping over to another streaming service too.
Who knows? Maybe she orchestrated the great elevator debacle of 2014, when TMZ obtained security footage of Bey's sister, Solange, allegedly attacking Jay in an elevator after the Met Gala, prompting rumors that Jay had been unfaithful, as buildup to Lemonade. Because if anyone controls the Beyoncé narrative, it's Beyoncé, not the media.
Of course, if Lemonade is possible, then I think anything is. Now go forth and stream, Beyoncé fans.