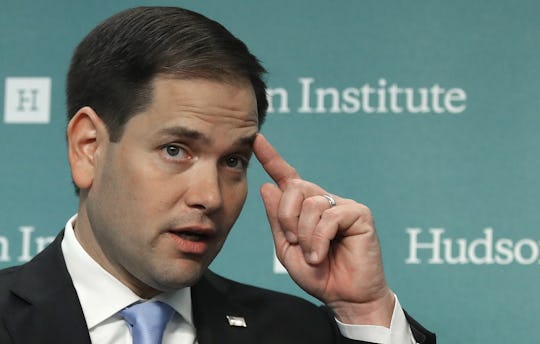 Win McNamee/Getty Images News/Getty Images
Will Marco Rubio Run For President Again? He's A Bit Of A Political Enigma
Former Republican presidential candidate Marco Rubio showed throughout the course of his failed campaign that he's deeply concerned about the future of the United States. Now that Democratic nominee Hillary Clinton's rival Sen. Bernie Sanders has endorsed her — making a Clinton-Trump matchup a virtual lock — two people the Florida senator abhors and believes will endanger our county will duke it out for the White House in November. And Rubio's June decision to run for Senate reelection when he'd announced he wouldn't suggests that he cares about his party and its ideals too much to leave politics altogether. So, will Marco Rubio run for president again in 2020?
Rubio dropped out of the race for the Republican nomination in March when he lost the primary in his home state of Florida to Donald Trump, a man he had once called "the most vulgar person to ever aspire to the presidency." Afterwards, he told reporters that he'd be heading out of politics when his senatorial term ended in January 2017.
The planned retreat into private life may have been the product of a campaign that at time seemed exhausting and even morally compromising for Rubio — such as when he used a debate to insult Trump's "small hands" and spray tan, and later apologized, saying that the move disappointed his wife, kids, and even reflected poorly on his faith.
But by June he'd had some time to decompress and reconsider. And although he'd reluctantly endorsed Trump in the interim, he's clearly concerned enough about the future of American politics to stay in after all, as he explained in a statement:
Control of the Senate may very well come down to the race in Florida. That means the future of the Supreme Court will be determined by the Florida Senate seat. It means the future of the disastrous Iran nuclear deal will be determined by the Florida Senate seat. It means the direction of our country's fiscal and economic policies will be determined by this Senate seat. The stakes for our nation could not be higher.
In a CNN interview, Rubio skirted a question about whether he'd consider another presidential run, but noted that "jumping into this [Senate] race is not the decision most people would advise" if he had his eye on the White House in 2020." "I'm coming back to be a U.S. senator and give my time and energy and have a Senate that can act as a check and balance on whoever is elected president," he said.
But The Washington Post's Chris Cillizza has another theory about Rubio's sudden 180. If he really does want to run for prez in 2020, Rubio's first priority is to avoid fading into obscurity, a fate that leaving politics altogether to catch those Florida rays (or whatever it is Rubio does when he's not politicking) would ensure. "So, Rubio was staring down four years of, well, not much," Cillizza wrote, adding that other potential contenders like House Speaker Paul Ryan and and Texas Sen. Ted Cruz would remain prominent voices throughout either of Trump or Clinton presidency.
So, Rubio's decision to run for reelection could be altruistic, or it could be self-serving. Or it could be both, because politicians are supposed to be the conduits through which society solves its problems — and he may just really want to be president as well.
Because he's relatively young at 45 years old, another run is certainly feasible for Rubio, even if it happens well after 2020. And although he holds many conservative views on social issues like abortion and healthcare reform, Rubio's recent on-point remarks after a mass shooting in Dallas that killed five police officers in the midst of a week defined by tensions between law enforcement and African Americans show that he may be able to connect with liberal as well.
As is often the case with politicians, Rubio's motivations and plans are difficult to pinpoint. He showed by announcing that he's seeking another term as senator, though, that he believes he can help to make the nation a better place for its residents. Whether he plans to attempt to do the same from the White House one day is yet to be seen.