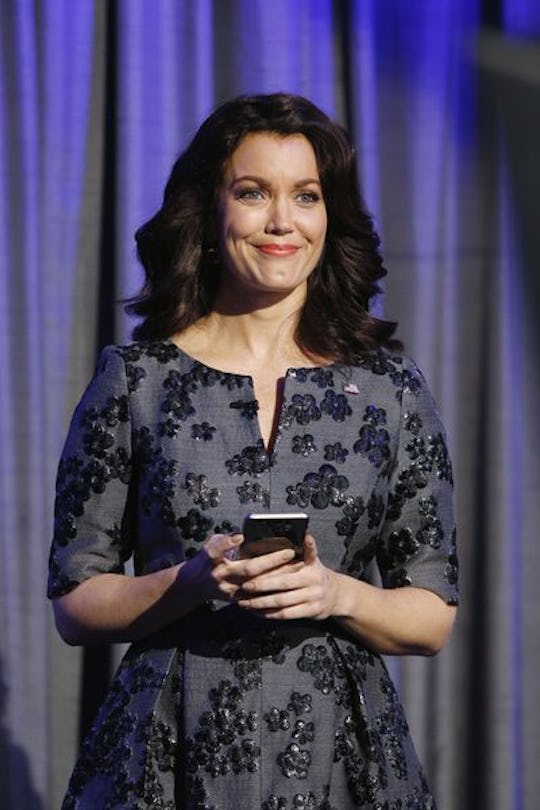 ABC/Randy Holmes
Will Mellie Become President On 'Scandal'? Her Campaign Weirdly Keeps Not Failing
Scandal is keeping us on our toes this season with a presidential election not unlike the one actually happening this year. There are several contendors on each side, most interestingly the Republicans: current Vice President Susan Ross, Trump clone Hollis Doyle, and former First Lady Mellie Grant. Mellie has come a long way on Scandal – from the President's wife in the background to Senator to presidential candidate herself. While there's a lot going against her, she also has a lot of support. But what will it all come to? Will Mellie become the President on Scandal?
First off, let's look at her competition. In her own party, there's Hollis Doyle and Susan Ross. Both of them have proven that they have staying power: Hollis is becoming popular a la Trump, while Susan is an underdog who is managing to race ahead, especially after winning the Republican debate earlier in the season. But frankly, I feel like the audience has been made to love her too much for her to win. It's not going to be that simple. Things are never that simple in Shondaland.
Then there's the Democratic side. The only one in the limelight is Governor Francisco Vargas. As of now, he does not pose a threat to Mellie; this would of course change if she wins the Republican primary and they face off in the election. With Cyrus in his corner, Vargas has a good shot in winning over Mellie.
Mellie, however, also has a heavyweight on her side: Olivia. We know Olivia stops at nothing to make her candidates succeed: She was a part of Fitz's rigged election, and she was prepared to take Susan down before her team stopped her. Olivia knows how to make America love Mellie, and it's working. She appeared on Jimmy Kimmel to read mean tweets about herself, which resulting in uproarious applause. On Thursday night's episode, she reported that she's doing well with women under 40 – and she can get other demographics on her side, as well.
While some constituents originally thought of Mellie as stuck up and "arrogant," she's working to improve that image. Her past as the First Lady and Senator could both work for and against her. Some might sympathize with her because she was cheated on and because her son was murdered, while others won't care. Some might applaud her for her work as a Senator; others, not so much.
Mellie has several obstacles to overcome: Her past, her current image, and of course her competitors. At the end of the day, though, she appears to be a worthy candidate, and will certainly not go down without a fight. It is possible Mellie will win the election, which would make for an amazing amount of drama in Shondaland.