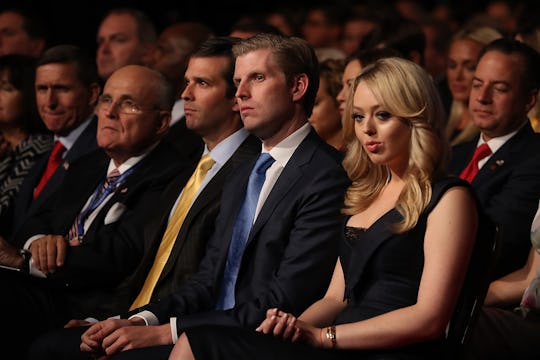 Justin Sullivan/Getty Images News/Getty Images
Will Tiffany Trump Be At The Final Debate? She's Showed Her Support Before
When an audience member asked each candidate to name something they admire about the other at the second presidential debate, Democratic nominee Hillary Clinton complimented her opponent's children. "They are incredibly able and devoted and I think that says a lot about Donald," she said. In fact, the Republican nominee's four adult children were present and supporting him. His three oldest have been mainstays on his campaign, and Ivanka Trump is consistently hailed as one of his most effective surrogates. Trump's younger daughter is much less active in publicly propelling her father to the White House, but she's been visible at most major events, so chances are that Tiffany Trump will be at the final debate Wednesday night.
It's a longstanding and cruel joke that 23-year-old Tiffany, who is the only child of Trump and his second wife, Marla Maples, is the "other daughter," or "the Jan Brady of the Trump family," as The New York Times characterized the seemingly distant relationship she shares with her father and half-siblings. "I had the blessing of raising her pretty much on my own," Maples told the Times.
Still, Tiffany Trump delivered a well-received speech at the Republican National Convention in July, and she was conspicuously present at debate no. 2.
In her RNC speech, Tiffany Trump celebrated her father for his parenting, saying that he certainly did not approach fatherhood halfway as she was growing up, even though she lived in Los Angeles and he in New York City. The actual anecdotes, though, were few and far between: "I still keep all of my report cards, some dating back to kindergarten, because I like to look back and see the sweet notes he wrote on each and every one of them," she said. And then: "A few years ago, someone very dear to me passed away and the first call I got, as I knew I would, came from my father."
Still, what is perhaps Tiffany Trump's most notable moment, and surely not scripted, moments came across as much less flattering to the GOP's nominee, and more authentic. After the second debate Oct. 9 — during which Donald Trump defended a recently leaked 2005 recording of him boasting about kissing and groping women without their consent — she appeared to pull away when he attempted to kiss her on the cheek. The incident seemed just plain awkward, although it's impossible to say why she reacted to him the way she did:
No matter what happened at the previous debate, Donald Trump is likely to want his second daughter very visibly in his corner during Wednesday's debate, as he's expected to face serious questions about allegations of sexual assault and harassment that have emerged against him this month. To have as many women as possible supporting him can only be an advantage, even if at least one of them is evidently none too interested in receiving his post-debate kiss.