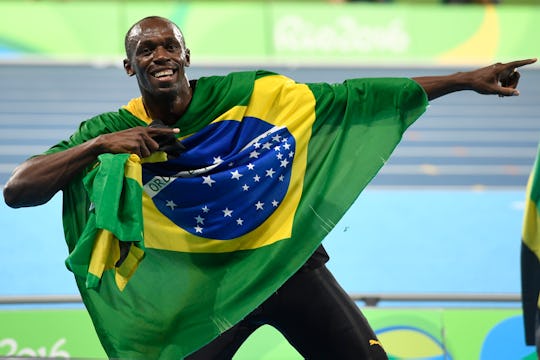 ERIC FEFERBERG/AFP/Getty Images
Will Usain Bolt Be At The Olympics Closing Ceremony? He Skipped The Opening Festivities
Certified fastest man in the world Usain Bolt had a truly legendary run at the 2016 Olympic Games. Make that three runs, to be exact: The Jamaican sprinter earned gold in the 100-meter, 200m, and the 4x100m relay, obliterating the competition in those races for his third Games in a row — an unprecedented feat. And now, after defending his title for what he's said could be the last time, Bolt has the opportunity to celebrate with possibly the most epic hybrid retirement/birthday party ever. But he's a nine-time champion who just might be over the hype (just kidding, Bolt's name is synonymous with hype), so will Usain Bolt be at the Olympics closing ceremony?
Fittingly, the very last day of the Rio Olympics — which reportedly was Bolt's last, although it's possible he could reemerge for Tokyo 2020 — and the grand, celebratory closing ceremony occur on his 30th birthday, August 21. For him to walk with Jamaica's delegation at the culmination of the event during which he achieved the elusive (to everyone but him) "Triple Treble," on this day in particular, would deliver the drama and the human-interest-meets-incredible-athletic-accomplishment sensation that NBC commentators salivate over. But Bolt himself hasn't publicly indicated whether or not he's planning to attend.
Bolt accepted the honor of carrying his country's flag at the opening ceremony of the 2012 Olympics in London, but he opted to skip the ceremony in Rio, announcing on Snapchat that he wasn't headed to Maracanã Stadium with the rest of his team. Although the official reason Bolt provided for his intended absence from the Athletes' Parade was that he was simply feeling lazy, The Telegraph reported that he may have been weary about many of his fellow athletes' tendency to mob him. He was also recovering from a recent hamstring injury.
We know now, though, that any injury that may have ailed Bolt certainly didn't stop him from blowing away the competition in all three of his events, nor did it impede his tradition of performing extensive and probably choreographed celebrations that traditionally last much, much longer than the meager 9.81 seconds it took him to run the 100m. Even though he plans to retire as the present day greatest of all time, his signature post-victory "Lightning Bolt" move will pretty much immortalize him.
In the United States, NBC will air the closing ceremony live starting at 7:30 p.m. ET, and American audience will bid farewell to the spectacle that has been the Games and all these athletes that have made us so proud over the past two weeks. Although a newly (re)retired Michael Phelps had headed home to Arizona and won't close out what he swears was final Olympics with his teammates, everyone's favorite gymnast, Simone Biles, will bear the stars and stripes for the US of A.
Audiences around the world would undoubtedly love to see Bolt appear alongside his fellow Olympics greats, especially if he really, truly, in his heart of hearts, does not intend to make a triumphant return to the competitive track. Whether or not that's what he really wants for his birthday, it would be a phenomenal parting gift for the Olympic diehards who have been cheering him through victory after victory after victory.