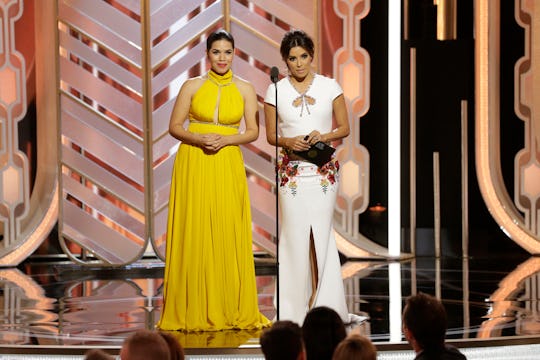 Paul Drinkwater/NBCUniversal via Getty Images
Women Won The Golden Globes This Year, Even If It Didn't Always Feel Like It
It was the year of #AskHerMore, a leading number of nods at the Golden Globes for Carol and nominations for one of the most diverse crowds of women ever. And despite a host of inappropriate and sometimes sexist comments from host Ricky Gervais, women absolutely won this year's Golden Globes — even if it didn't always feel like it. Maybe we should have expected as much when transitioning from three glorious years with Tina Fey and Amy Poehler at the helm to another sketchy turn with Gervais, a comedian who's not exactly known for having kind things to say about anyone, especially women. But his jokes still cast a shadow over an otherwise fun night.
Between the uncomfortable number of rape jokes — let's not even get started on the Gervais/Mel Gibson interaction — and Gervais' multiple jabs at trans women, it was like one step forward and two steps back. Even when Gervais pseudo advocated for women in the Golden Globes monologue by saying "of course" they deserve the same pay as men, he had to follow it up by joking it was Fey and Poehler's "stupid fault" for sharing the salary. (At least he brought the issue back to light — so that actually worked out pretty well.)
Tempting as it may be, we can't let Gervais' negativity steal the spotlight. And despite the fact that neither Carol nor any other female-led films were awarded big prizes from the Hollywood Foreign Press outside of the best actress categories, there were at least a few ways women won at this year's Golden Globes, even if it didn't feel like it at times. (Worthy as they may be, The Revenant doesn't even pass the Bechdel Test and The Martian barely fits the criteria as well. Sorry, boys.)
To be fair, a chart that showing how women fared at the Golden Globes would have had some highs to counter any lows that women came across on Sunday. As Kate Winslet put it in her acceptance speech for Best Performance by Actress in a Supporting Role in a Motion Picture for Steve Jobs, "I just want to say, what an incredible year for women in film, and I mean, these categories are so crowded and crammed with incredible skill and integrity and I feel prouder than ever this year to be included I really truly do." Speaking to the press backstage she added, "There's a real sense of girl power this year in terms of performances."
Women speaking up for themselves too seemed to be one of the best trends of the night, with one of the best moments coming from Jennifer Lawrence and Amy Schumer when they introduced their own nominated movies. Why shouldn't we be loud and proud about our accomplishments, right ladies?!
Beyond the actresses who were leaving with trophies, just about every woman who took the stage made a positive impact. Who is still swooning about the moment when Cecil B. DeMille winner Denzel Washington gave stage time to his charming wife, Pauletta Washington?
And what about when America Ferrera and Eva Longoria made an excellent point about the treatment of Latinas?
There really were enough of those good moments to overlook the Gervais bits... But all the same, maybe it's time for the Hollywood Foreign Press to start putting together a "win Amy and Tina back" strategy. You know, just to be safe.
Images: Paul Drinkwater/NBCUniversal via Getty Images