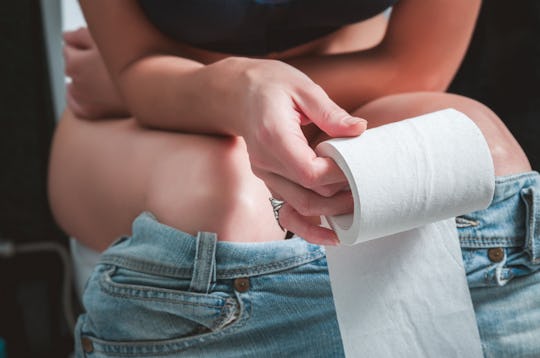 gmstockstudio/Fotolia
Your First Postpartum Pee Is *Intense* & These 16 Moms Are Ready To Talk About It
As a first-time pregnant woman I assumed my time after giving birth would be spent lovingly cuddling my baby. Instead, a delivery nurse continuously bugged me about peeing. I had no idea this would happen, and I certainly had no idea what peeing postpartum would be like. It's not like moms describe their first postpartum pee during casual conversation, people. This common bodily function was suddenly a terrifying mystery to me. That's not exactly the "life-changing" parenting experience I envisioned having.
My nurse handed me a can of numbing spray, a pair of mesh panties, a diaper, a squeeze bottle, and told me to go do some work. Immediately I knew that anything that required that many accessories and that much preparation was going to suck. And it did. I cried as the molten hot burning magma-like urine dribbled out of me, burning my sensitive crotch with a fiery heat that's rather difficult to describe. I stopped the flow, pushed the call button, and weakly whispered, "I can't. I can't."
The nurse came in and calmly coached me through my postpartum pee —like only a labor and delivery nurse could — telling me to fill the bottle with warm water, spray the numbing spray on my vulva, and then squirt my nether region with warm water while I relaxed enough to pee. It worked. I will never forget her support that day, and I share her wisdom with other parents-to-be whenever I can.
When I've talked with other people who've birthed babies, I've learned I'm not alone in my postpartum peeing misery. From burning vulvas and stinging stitches, to urinary incontinence and having to be catheterized to empty their bladders, almost every new mom I know has their own tale of pain and agony. Here are just a few: