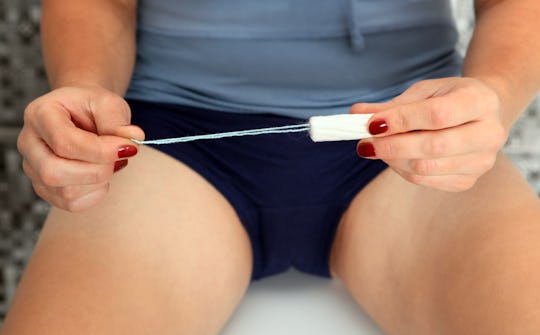 Sergiy Serdyuk/Fotolia
9 Terrifying Things That Aren't Nearly As Scary As Your Post-Baby Period
The feminist in me wants extol the virtues of menstruation. Periods are beautiful, and they should be openly discussed without embarrassment or negativity. But the person in me who has experienced periods is like, "Girl, they suck, come on now." So while I'm not ashamed of having a period, I have to admit they're not annoying AF. And when it comes to postpartum periods, I'll admit those things can be downright frightening. Indeed, there are terrifying things that aren't as remotely scary as your postpartum period.
As with anything scary, I find the most terrifying aspect of these post-baby bloodbaths to be the unknown. One really doesn't necessarily know what to expect after a human has slithered out of your nether region (which is, like, a horror movie unto itself, to be honest... at the very least a particularly visceral sci-fi). Is it going to be the same? Is it going to be worse? Is it going to be regular? Is it going to come at all? Like... what's the deal with postpartum periods?! We just don't know.
If you've had a period after delivering an infant, you certainly have your own frame of reference. But if you haven't experienced this real-life version of that one elevator scene in The Shining, consider this a warning from my own personal experience.