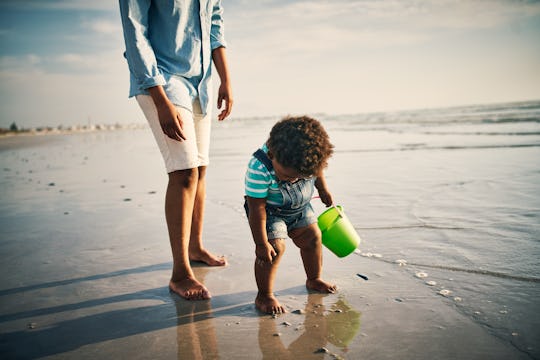 pixdeluxe/E+/Getty Images
Everything You Need To Know About Taking Baby To The Beach
Bonus: those ocean waves are the perfect sound machine for naps.
The sun is shining, waves are splashing, and the sand is calling your name. The beachside getaway is a summer necessity. But can you take baby to the beach safely? Because even the 1-and-under set needs a little vacay sometimes.
If you've recently added a new member to your family, it's easy to worry about whether the sun and surf is a safe environment for your little one. You'll want to consider your baby's age in relation to water safety, as well as the amount of time you'll spend in the sun. Things like having easy access to a place where you can escape the sun's glaring rays if your baby gets overheated and whether or not you're up for cleaning sand-filled diapers also comes into play. Especially if you'll have other kids in tow or you'll be without another adult around, it's a good idea to think critically about how a beach trip might go down with your baby.
With a little preparation and forethought though, it's totally possible to safely enjoy a little beach getaway with your baby. After all, a deep love of summer beach trips can start early. Here are some tips for taking your baby to the beach if you're ready to enjoy some fun in the sun (or shade).
Experts:
Jenny McCuiston, founder of Goldfish Swim School, mother of four, Olympic swimming trialist
Dr. Stacy Chimento, Board Certified Dermatologist of Riverchase Dermatology in Miami
This article was originally published on