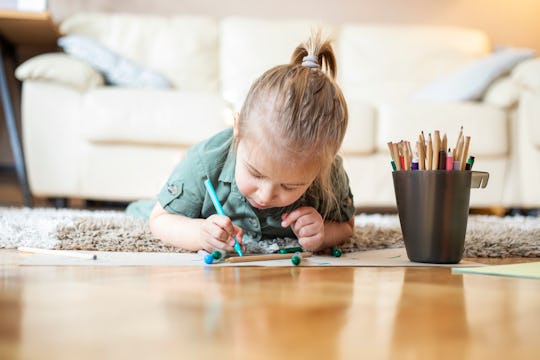 Vesnaandjic/E+/Getty Images
Print Out These Super Cute Cat Coloring Pages For Free
You need to download and print these pages right meow.
I adopted my cat way back when I was in college, and today she's almost 14 years old and is loved by my husband and two daughters. Suffice to say, we are cat people, so there is no doubt in my mind that my girls would love a book full of cat coloring pages that they could work on. Lucky for them (and me) there are a lot of great options online, which also happen to be free.
My cat, Coco, has been my sidekick throughout adulthood and brings so much joy to my life, as well as my family's. She is so patient with my toddler and preschooler, and she loves to curl up in my husband's lap while he reads. She is so admired that my youngest daughter's first word was "Coco" (which is only mildly irritating as her mother). It is because of Coco that my daughters love any show or movie that features a cat, plush cat toys, and stories about kittens, so the fact that we don't already have a book full of cat coloring pages in our home is somewhat mind-blowing to me.
That won't be the case for long, though, because there are tons of free cat coloring pages online that can be printed and bound together to create a one-of-a-kind coloring book. So, if your kids are even half as obsessed with cats as mine are and you think they'd love a cat coloring book, too, then here are some great pictures to help you get started on your own.
If you print all of these cat coloring pages out, you can easily bind them together to create a totally unique coloring book for your little cat-loving artist. And, maybe you could print one for yourself, too.