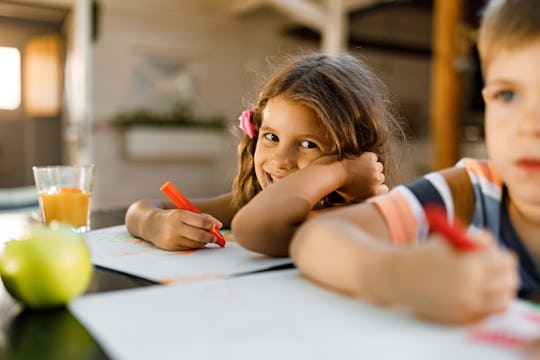 skynesher/E+/Getty Images
Print These Free Football Coloring Pages For Your Little Sports Fan
Hopefully they'll choose your team's colors, too.
Football is a way of life for many families, and it's really never too soon to introduce your kid to the wildly popular team sport. That's why these football coloring pages for kids are great, because they can teach your child to have love for the game as soon as they're old enough to hold a crayon. Plus, these free printout coloring sheets can give your kids something to focus on when you're trying to watch the game.
Whether your family is all about high school, college, or professional football, it's a lot of fun to bring your littlest fan into the fold. Because honestly, it's a wildly engrossing game, whether you're watching an older sibling play on their school's field, or sitting entranced by all the sights and sounds of an NFL game on the big screen. But it takes a little while to learn all the rules and history of your particular team, let alone the entire game, so it makes sense to introduce the basics to your kids as soon as possible. Encourage them to fill these free football coloring pages with whatever hues they desire, or feel free to *suggest* they use the colors of your beloved team. In any case, football coloring pages are a fun, quiet activity kids can enjoy during any part of the season.
Whatever your favorite team, raising your kid as a football fan is rewarding and fun. These football coloring pages are a perfect way to get your kid into the game.