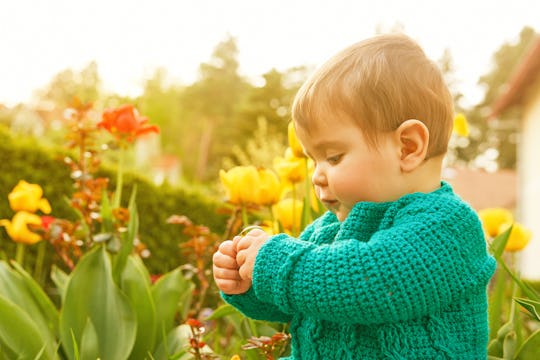 stock_colors/E+/Getty Images
These Are The Absolute Best Things About April Babies
Crocuses and tulips are beginning to pop up. Easter egg hunts are on the horizon, and across the globe new little farm animals are joining herds. Springtime is here, and if you're expecting a new baby, it's all the sweeter. But what of April births? Is April a good time for a baby to make its debut? These 8 fun facts about April babies seem to suggest as much.
Turns out, April is a pretty ideal time to arrive on planet Earth. Not only is the weather warming up and the sun shining, making stroller rides and outdoor jaunts possible for even the tiniest infants, April just seems to produce great kids. Maybe it's because their mamas got to nest during the dark months of winter. Maybe it's to do with the general springtime attitude that makes people less stressed. Who can say for certain? But history has shown that April babes are pretty great. Just look at some A-list names for confirmation: Paul Rudd — a comedic legend. Jennifer Garner — possibly the most positive celebrity out there. Shakespeare — I mean, can we say G.O.A.T.?
Your April baby will likely be no different. Here's all the fun stuff they have to look forward to.
This article was originally published on