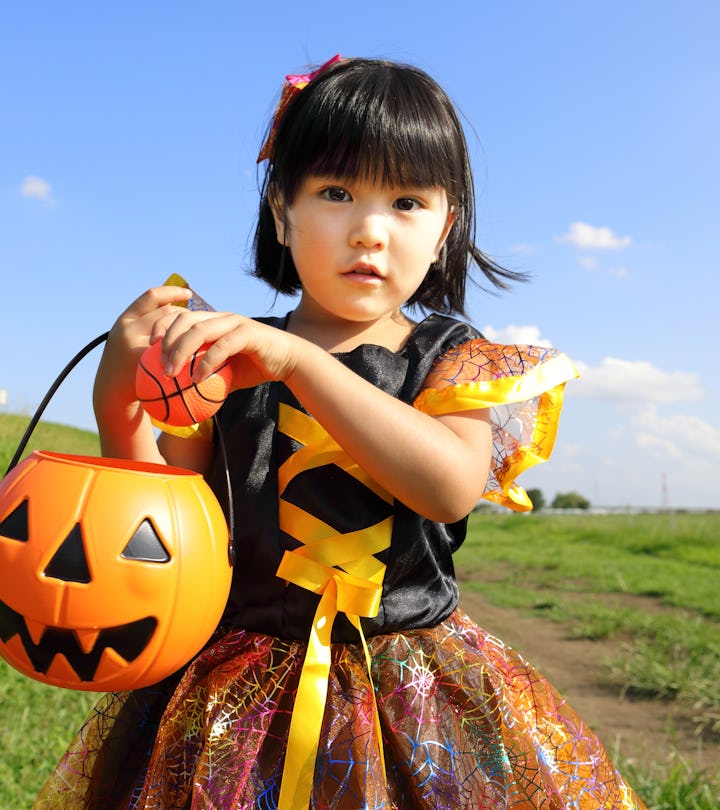 Copyright Crezalyn Nerona Uratsuji/Moment/Getty Images
Get Ready For The Perfect Pic With These Halloween Photoshoot Ideas
These are just creepy enough.
Halloween is the one time of year when it's acceptable to dress your kids up as little demon children, put fake headstones out in your front yard, and use blood as a legitimate decorative accent. Since it's such a brief window of time, I like to come up with fun and spooky Halloween photo shoot ideas for my daughters every year so that I can relive the creepy season long after the holiday has passed. What can I say? I'll take a picture of my kids dressed up as zombies over them in Christmas dresses any day.
Throughout most of the year, my love for all things creepy, dark, and borderline disturbing is considered an "unnerving quirk," as my husband says. But, every fall, for a little over a month, it suddenly turns into some totally normal "Halloween spirit," so I have to soak it all up while I have a chance. I love brainstorming new Halloween photo shoot ideas every year because, not only do I get some amazing pictures of my kids out of these little photo sessions, I also get a chance to get creative and use my seasonal decor in new and different ways.
As it stands, my daughters are both too young to get too scary with my photo shoots, but there are still a lot of great kid-friendly scenes that have just the right amount of spook to them. So, if you're in the same boat and on the hunt for some Halloween photo shoot ideas of your own, here are a few to consider this year.