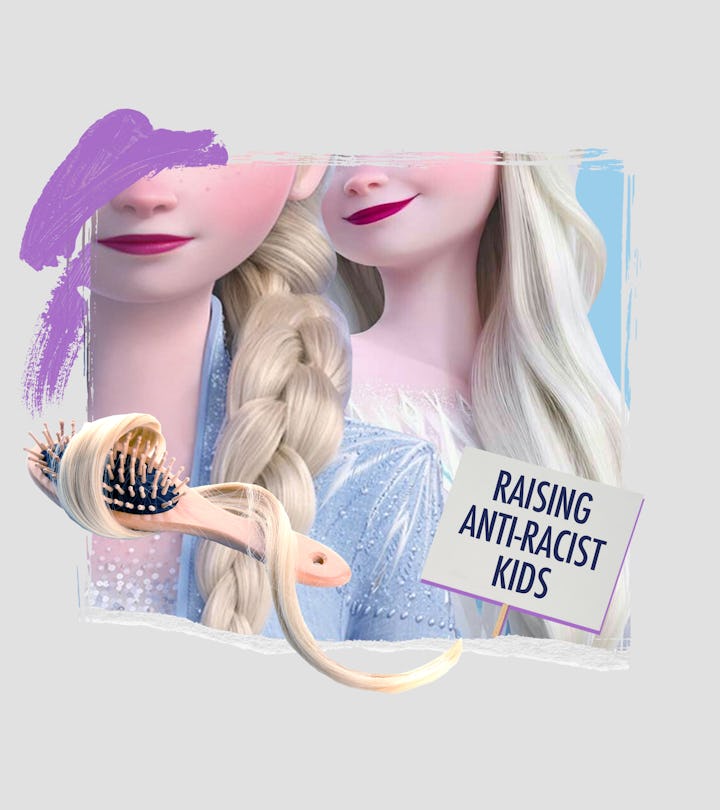 How We Dealt With Our Black Daughter's Obsession With Frozen — & The Very White Elsa
Somewhere between Karma's World, Spirit Rangers, and Alma's Way, our 3-year-old saw Frozen — and wanted to change who she is.
"Mom, I want down hair. I want hair like Elsa! Call me Elsa!" The first time my Black multiracial daughter with a headful of tight, dark brown curls and brown skin said these words to me, I struggled with foreboding feelings that threatened to spill over into an unprepared, reactionary, and most likely unhelpful response. Disney's Frozen turns 10 this month — marking an entire decade that the Arendelle sisters have had our collective imaginations under their spells — and we have some big mixed feelings about it in my house.
The impact of Frozen as a cultural phenomenon cannot be understated. A recent press release from Disney cheerfully notes that from 2020 to 2022, alone, 40 Frozen dolls were sold every minute in Europe, the Middle East, Africa, and North America. There are over 18 million posts under #Frozen on Instagram alone, and the official Disney "Let It Go" singalong video, with 3.2 billion YouTube views, tops Justin Bieber's "Baby" as the biggest pop song of the time. But what is not unique about the franchise is its whiteness. Though the first movie holds beautiful lessons of sisterhood and conquering one's fears, it also stars two white girls, one with that long blonde hair, reinforcing a narrative that our media favors over and over: framing the white person as the only character worthy of being the star.
"White actors accounted for 72.5% of people who appeared in TV and digital video ads in 2022," a study by Extreme Reach, a creative agency that works with 93 of the top 100 global advertisers, shows. The study goes on to note that "who is heard speaking sets standards around beauty, gender roles, who makes purchase decisions, and more." This reality is particularly harmful to kids of color like my daughter, kids who are inundated with these subliminal biased messages about where they belong in society, in relation to white people.
She swept her hand down the side of her head, shoulder, and body to show me what down hair means.
As anti-racist parenting educators, my partner and I put great intention into what our kids watch, listen to, and read. Yet, even with all the best intentions, somewhere between Karma's World, Spirit Rangers, and Alma's Way, our 3-year-old daughter saw Frozen — and became obsessed. The downside is obvious: she internalized harmful messages about her own skin color and hair texture, to the detriment of her emerging self-image. She wanted to change who she is to be more like white, blonde Elsa. The upside? She's still very young and impressionable and able to be supported in countering these narratives.
After my first stumbling, I asked a few clarifying questions. "What do you mean by down hair?" was the first one that popped into my head. She swept her hand down the side of her head, shoulder, and body to show me what down hair means. She indicated that Elsa's skin was also a point of admiration. I fumbled through some words about her hair and skin being beautiful before realizing that I needed an actual strategy and plan to address this. I needed to not just tell her she is beautiful the way she is. I needed to address the core issue that whiteness was Elsa's most desirable quality.
"Children will learn misinformation about race whether or not caregivers discuss the subject. It is our job to preempt hearsay and misinformation with the facts," wrote Dr. Ibram X. Kendi in his incredible book, How To Raise An Antiracist. My partner and I found that framing so powerful, and when we realized our little girl was wishing to be someone else, we made — and have kept — a few intentions. These intentions were not meant to frame Frozen in the negative. Rather, we pivoted to a celebration of our daughter's identity and self, incorporating fun, whimsy, and play into helping her fall in love with who she is, just the way she is. And although she still insists we call her Elsa, we've made progress in other areas.
To help her embrace herself for who she is, an incredible little Black girl, here are a few practices we lean heavily into:
We name racism and inequity in our family. Our son is 8 years old and understands racism because of the years of intentional education on our part. Sometimes, he volunteers to talk to his little sister on his own ("Mom, I got this. Let me talk to her for a second.") and we hear him using clear and precise language like naming race, racism, and injustice. When he hears her say something negative about her own brown skin, he clearly says to her, "That's racist." We also read the kids book Our Skin to our little girl because it explains racism in a way that she understands.
We explore joy in her Black curls. She has fallen in love with "braids and beads" so she sits quietly while I braid her hair and chooses the beads she wants me to thread through her braids. We snagged some beads in the shape of hearts to lean into her desire for whimsy. So yes, she gets to enjoy "down" hair while exploring and appreciating the magic that is the hair she has. When my partner does her hair, he helps her fro it out (he is not the best braider, but after years of fro-ing out my hair, that's how he can show her the love and support).
I let her experiment with my hair and makeup. Though this may seem like a simple activity for any parent and child, it actually can deepen her appreciation and experience with Black hair and skin. We've spent entire afternoons with her vigorously brushing my hair, carefully styling it, and experimenting with my makeup. My scalp will survive and this special time helps create positive memories for her with Black identity.
I model self-love as a Black woman. It's important for her to see me loving my own curls and relishing in my Black skin. That means wearing my curls out more and letting her sit at my feet while I do my makeup. I even let her pick the color sometimes. By bringing her into my own relationship with self-love, I'm able to emulate the breadth of a journey for her with Black hair and skin.
We closely monitor her media. When we go to the library and pick out books, we choose ones that feature people who look like her as well as other kids of color. We skip past the white princess section as much as we can and give her options that are vetted and curated. The same applies to her television watching. For a few months after her Frozen obsession took hold, we only allowed her to watch PBS. Now, we've opened it up to Gabby's Dollhouse. We've always loved Spirit Rangers and Karma's World. Curating her media means giving her choices that help empower her love for herself instead of leading to unhealthy comparisons.
We are intentional about accepting gifts. The holidays are coming, so when we're asked by loved ones what to get our daughter, we let them know that if they're buying dolls, we'd love for them to get dolls that reflect her identity as a Black girl. This means being clear with everyone about expectations around gifts, but it's worth it.
Raising an anti-racist child is hard work that requires constant intention and purpose. Our daughter's obsession with Frozen presented an opportunity for us to realign with our values and to help reinforce the power of reflective media. Frozen is only one movie. White-dominant messaging is all around our kids, and as parents, it's on us to help guide and empower them while surrounding them with values that'll help them become proud and powerful in their skin, exactly as they are. That, I believe, is the real magic of parenting.
Raising Anti-Racist Kids is a column written by Tabitha St. Bernard-Jacobs focused on education and actionable steps for parents who are committed to raising anti-racist children and cultivating homes rooted in liberation for Black people. To reach Tabitha, email hello@romper.com or follow her on Instagram.