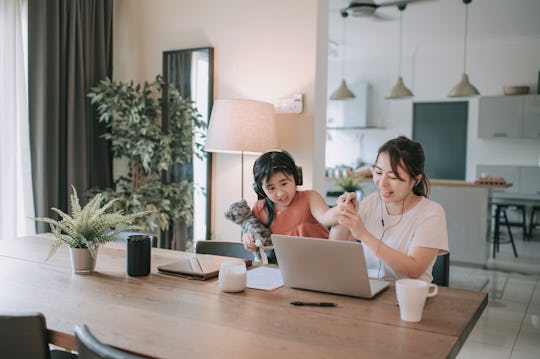 chee gin tan/E+/Getty Images
These Instagram Captions About The First Day Of Homeschooling Say It All
The summer sure went by fast.
You and your child are probably both anticipating the first day of school with an equal mix of nerves and excitement. Either way, this year, there may not be a school bus stopping out front to take your kids to you know, an actual school building. Whether you've been teaching your kids all along or you're adjusting your usual approach to education, these first day of homeschooling Instagram captions will capture the jumble of emotions you're probably feeling: the jitters, the chaos, the am-I-actually-doing-this?
As a new or seasoned homeschool teacher, you've likely spent the summer finding the best kids' desk, brushing up on your math skills, building up a list of homeschooling resources, and loosely dreaming up a curriculum your child will love. Maybe you've even found some new clothes that make you feel like a comfortable teacher (flowy dresses, anyone?). Now all that's left to do it is get the kids to pose on the front porch for a first day of school photo, then march the crew back inside and let the learning commence. Read on for 24 Instagram captions that are perfect for the first day of homeschooling, and feel free to look back on the list when you need an encouraging word (which, realistically, will probably be about 30 minutes after posting).