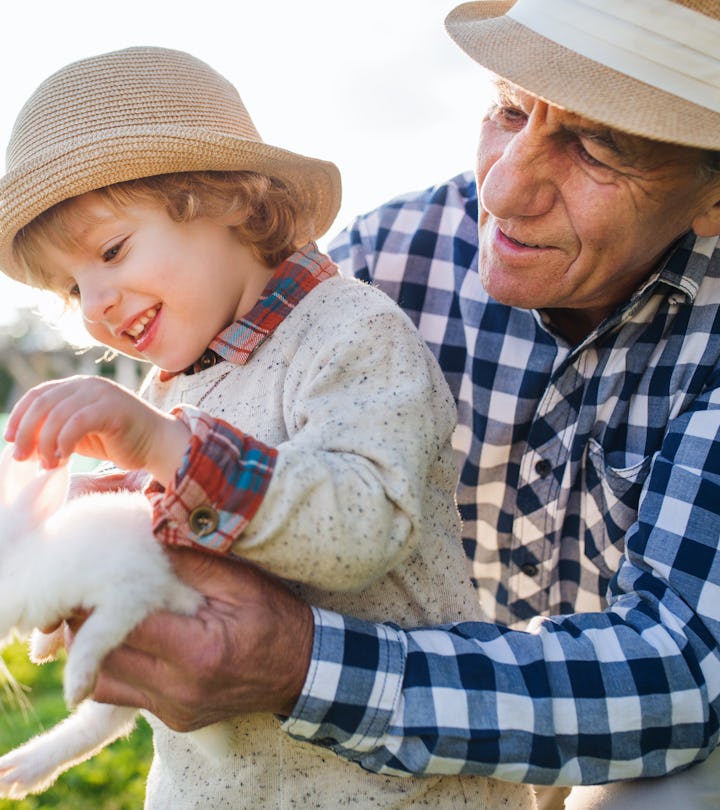 Halfpoint Images/Moment/Getty Images
52 Of The Best Kids' Easter Outfits For 2023
They'll be styling from head to bunny tail.
We may receive a portion of sales if you purchase a product through a link in this article.
Making Easter baskets for your kids, setting up elaborate egg hunts, and enjoying all the jelly beans and creme eggs your heart desires — Easter certainly has its perks. And dressing your little ones in soft florals, pastel plaids, and traditional toiles never gets old either. These are some of the cutest kids' Easter outfits of 2023 for children of every age, from newborns all the way up to grade schoolers.
Does your family have Easter traditions you look forward to each year? Maybe it's lunch at a relative's house after a church service, a big Easter egg hunt with all the neighborhood kids, or baking special holiday treats together. No matter what you'll hop in to this year, there are clothes here for any activity, from comfy, cozy baby jumpsuits to more formal Easter dresses and button ups. And fair warning: you are going to see some items and wish they came in your size.
Baby girl Easter outfits
Shopping for your baby girl is extra fun around Easter time, when the pinks, flowers, bows, and baby chick prints are on display in full force. Lean in to all the festive patterns and colors this year. You can choose from traditional dresses, more casual dress and bloomer sets, bubble rompers, overalls, and much more.
Baby boy Easter outfits
Sometimes, parents of little boys probably feel like there just aren't as many cute options for them as there are for girls (especially when you're shopping in stores and see their sections side by side). But brands are making a conscious effort to offer more of what you really want in baby boys' styles. These Easter outfits are proof, with brights and neutral options, and no overplayed sharks or dinosaurs in sight.
Toddler girl Easter outfits
Easter outfits for toddler girls are looking oh-so-adorable this year, with lots of ruffled sleeves, floral prints, and plenty of pink bunny moments. As a bonus, many of Target's outfits have matching items for boys and girls of all ages, perfect for matching sibling Easter outfits, and Old Navy is doing Mommy and me fashions for Easter this year, too.
Toddler boy Easter outfits
Boys' Easter outfits can go so many ways: you can choose a preppy, put-together look (um, that little green sport jacket is just too cute), or opt for something more neutral, like the taupe bunny sweater. Everyone will melt when your little guy shows up in one of these looks.
Big kids' Easter outfits for girls
And for the little ladies, the kids' fashion world is serving up even more ruffle sleeve moments, whether they're part of a jumpsuit or flowing floral sundress. Many of these outfits could be worn well into summer, too.
Big kids' Easter outfits for boys
Want your big kid looking sharp for Easter brunch? There's nothing like a pair of khaki pants and a button-up shirt to get the job done. You and your kid can choose the perfect color and pattern for their top, whether they want to go bold or opt for something more subtle.
Accessories for kids' Easter outfits
What is any outfit without accessories? The perfect kids' Easter outfit includes special finishing touches, like pastel socks, bright yellow sandals, and yes, bunny ear hair clips. Especially bunny ear hair clips.
Which kids' Easter outfits will you choose for your brood? Be sure to snap all the pics and share them with some on-theme Easter Instagram captions so the world can see your special somebunnies.