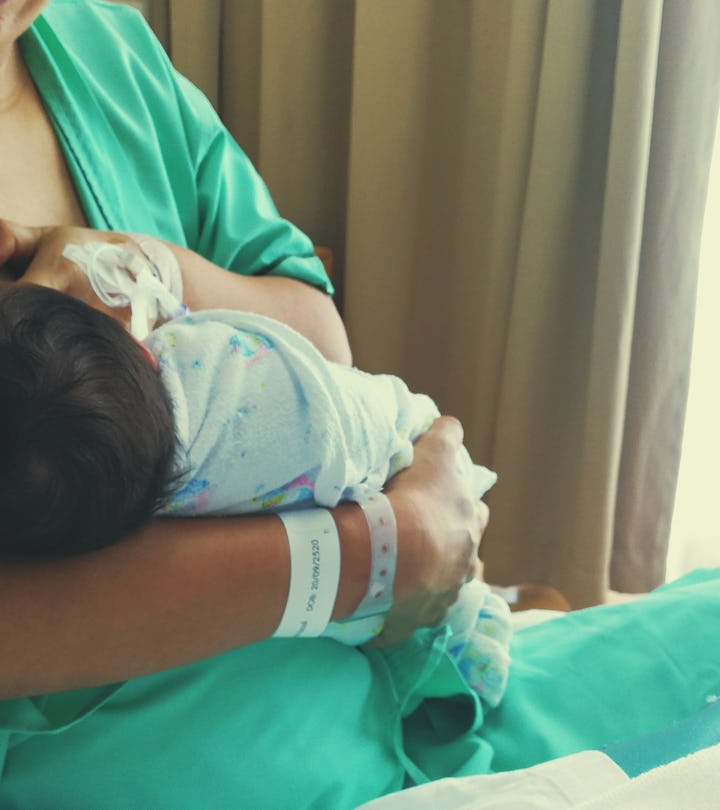 Kawi Chumrak / EyeEm/EyeEm/Getty Images
Here's How A NICU Stay Can Affect Breastfeeding
Even if your baby goes to the NICU, you can still breastfeed.
When my third child was born, she was sent to the neonatal intensive care unit (NICU) for observation. She hadn't scored so well on her Apgar test following the birth and the doctors wanted to make sure she hadn't inhaled any meconium, as she pooped during the delivery. I wasn't having the best recovery either, but was hellbent on breastfeeding my NICU baby. As my baby was wheeled away from me, I was concerned about how my daughter's NICU stay might affect breastfeeding, and here's what I found out firsthand.
How can a NICU stay affect breastfeeding?
After your baby is born, your OB-GYN or midwife will want you to have direct skin-to-skin contact. It helps to promote breastfeeding and bonding. Still, some sweet babies will go to the Neonatal Intensive Care Unit (NICU) if it's deemed necessary. So if you're planning to nurse your newborn — and they're in the NICU — it may or may not affect your breastfeeding plans, according to Dr. Cherilyn Cecchini, M.D., a board-certified pediatrician. "When babies spend time in the NICU, they may not be able to nurse directly with mom," says Cecchini. "They may be receiving formula in a different way (like a tube that goes from their nose into their stomach) that is better for their stage of development."
Shoshanna Levine, IBCLC, a lactation consultant, adds, "Unfortunately, a NICU stay can have an effect on the breastfeeding relationship. Any separation that occurs between mother and baby can lead to a decrease in both milk and hormone stimulation." Thankfully, though, this often can be rectified by working with the NICU nurses and a hospital lactation consultant who can help you establish your milk supply. So be prepared to become BFFs with your breast pump while baby is in the NICU.
How much breastmilk does a newborn actually need after birth?
It's incredibly amazing how small a newborn's tummy truly is, and as such, they don't need a deluge of breastmilk right away, although they do need to be fed frequently. "Newborns typically need very small amounts in the first days, and their stomachs stretch to maximum capacity after about four weeks," Lilly Schott, RNC, MSN & IBCLC, a nurse and lactation consultant at Ovia Health, tells Romper. "Approximate amounts per feed are: Day 1, 5-7 mLs, Day 2, 10-15 mLs, Day 3 20-30 mLs, and this increases to about 2-2.5 ounces by Day 7."
"Babies should be fed a minimum of 8-12 times every 24 hours, and on demand," Chrisie Rosenthal, IBCLC, a lactation consultant and Consultant Relations Manager with The Lactation Network explains. "The volume of breastmilk a baby needs increases daily from day one, until it plateaus around 2-3 weeks." Although it's almost impossible to know exactly how much breast milk your baby is drinking, there are other ways to measure how much they're taking in. "We look to other reliable indicators such as baby's weight, output (wet diapers and stools), and signs of milk transfer (such as suck pattern and a softer breast after a feed) to assess how well baby is feeding," she says.
What is breastfeeding in the NICU like?
When your newborn is in the NICU, (and you're in a separate postpartum room in the hospital or discharged and at home recovering), it makes breastfeeding even more challenging than it already can be at the onset. But fear not, because there are ways around your baby's stay in the NICU. "If mom and baby are separated, the best way to facilitate the breastfeeding relationship is for mom to either pump or be present and breastfeeding in the NICU during feeding times," advises Levine. "The majority of NICUs have set feeding hours which makes it very conducive to the mother to be present and latch the baby herself when it's time for him or her to eat." And when you can't be there, you can always pump at the designated feeding times so that your breasts are full and ready for baby when you are together again.
In many instances, you'll find that the NICU staff will work with you to help facilitate breastfeeding your baby. "These days the majority of hospitals and NICUs are extremely supportive and accommodating to the breastfeeding relationship," says Levine. "Good communication between mom and baby's medical team can ensure that everyone is on the same page regarding who is doing what during the baby's feeding schedule." Some NICUs have separate rooms for parents and babies to stay together, so if it works for you and your family, you might want to inquire about what options/accommodations the hospital has for the breastfeeding parent, so that you always have access to your baby.
Additionally, try to advocate for as much time with your baby in the NICU as possible, says Schott. "This allows parents to be informed about changes to care that may impact feeding," she says. "Do any skin-to-skin time or practice breastfeeding when baby is able, and request lactation support early and often." You should always try to protect your milk supply by maintaining a pumping and hand expressing schedule.
Above all, communication is key, especially when you're not only trying to begin breastfeeding but set up somewhat of a schedule. "Communicate your feeding plan to the staff," says Rosenthal. "They will work with you to create a plan and feeding schedule that allows you to feed your baby at breast as much as possible, as soon as your baby is able."
Can bottle-feeding in the NICU hinder breastfeeding?
When you're working so hard for your baby to learn breastfeeding, giving them a bottle might make you anxious. But don't worry if baby has to drink either formula or pumped breastmilk from a bottle for the times when you can't make it to the NICU. "Many providers agree that delaying the introduction of bottle feeds until after 3-4 weeks of breastfeeding can help avoid 'confusion,'" says Cecchini. "But while babies may seem confused, they're often spoiled from bottle drinking because it requires less work than breastfeeding — meaning they probably aren't really confused... they're just a little lazy." Cecchini recommends timing breastfeeding for when baby is hungry can help them stick with it for longer. "Work closely with your pediatrician and a lactation consultant to help you and your newborn reach your feeding goals and their nutritional needs in the safest way."
As for my newborn who spent nine days in the NICU, when she finally came home from the hospital, I took her into my bed, where I breastfed her and we bonded, without wires attached to her or the sound of beeping machines startling her. And in the silence of my room, with just the sweet sound of her suckling, I felt that we were both reborn.
Study referenced:
Moore, E., Bergman, N., Anderson, G., Medley, N. (2016) Early skin-to-skin contact for mothers and their healthy newborn infants. PubMed, https://pubmed.ncbi.nlm.nih.gov/27885658/
Sources interviewed:
Dr. Cherilyn Cecchini, M.D., a board-certified pediatrician
Shoshanna Levine, IBCLC, a lactation consultant
Lilly Schott, RNC, MSN & IBCLC, a lactation consultant at Ovia Health
Chrisie Rosenthal, IBCLC, a lactation consultant and Consultant Relations Manager with The Lactation Network