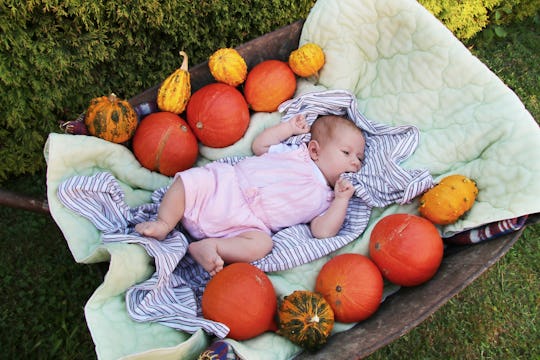 Shutterstock
29 Reasons October Babies Are The Best Babies Of All
Pumpkins are just the beginning.
Can you really beat October when it comes to birth months? I'd say no, because between pumpkins, Halloween, and fall foliage, October is a gorgeous month for your baby to be born in. And while all babies are wonderful and precious, there are just so many reasons why October babies are the best babies out there.
Full confession: I wanted to write this story because I, too, have an October baby. And she is, quite frankly, pretty fab. She is our first fall baby, which is hands down my favorite season of the year. When we brought her home from the hospital, the leaves were golden orange, the air was crisp (but not cold), and it felt like fall. We were able to go outside with her and soak in all the beauty of nature without worrying about her getting sick, another plus for October babies.
For me, October is an anticipatory month, because there is so much to look forward to in just a few short weeks. Right around the corner are holidays like Halloween, Thanksgiving, and Christmas/Hanukkah/Kwanzaa. And let's not forget about New Year's. And your little one will be here to partake in all the parties. In short, October babies are over-the-top awesome. Let me count the ways — 20 of them, to be exact.
This article was originally published on