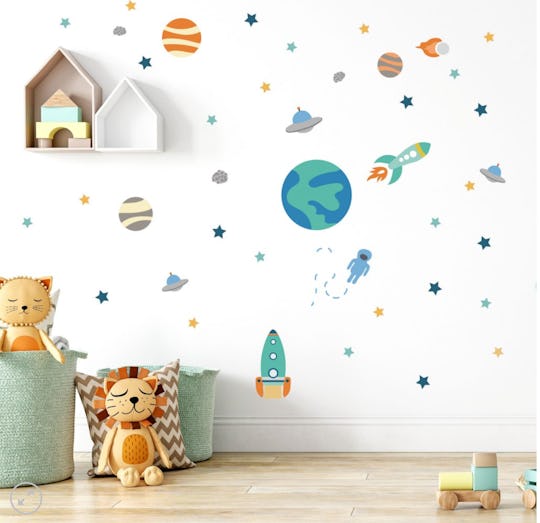 Name Labels
These 25 Space-Themed Nursery Ideas Are Out-Of-This-World
Your little one will feel like they're sleeping among the stars.
You're already over the moon about the impending arrival of your baby. So if outer space is your thing, you might want to consider a space-themed nursery. It's easy to create an awe-inspiring area for your baby that will make you feel like you're in a galaxy far, far away. From shelving to stickers, books to bedding, these items will send your little astronaut in the making straight to the stars.
There truly are so many options for a gorgeously galactic nursery. Although you could paint all the walls a dark color (to represent space and all), walking into a black or even super dark blue nursery might not be exactly what you envisioned. Instead, you can always opt to paint an accent wall a darker color and then decorate it with stars or other artwork.
Are you ready for liftoff? Well, then get ready to take flight and be inspired by these space-themed nursery items that will make you feel like you've taken one small step for man, one giant leap for, well, motherhood.
We only include products that have been independently selected by Romper's editorial team. However, we may receive a portion of sales if you purchase a product through a link in this article.
Stars, rocket ships, and planets, oh my! Once you decide on a space-themed nursery, you can let your imagination explore new galaxies as you come up with creative ways to show your love for planets — and being a parent.