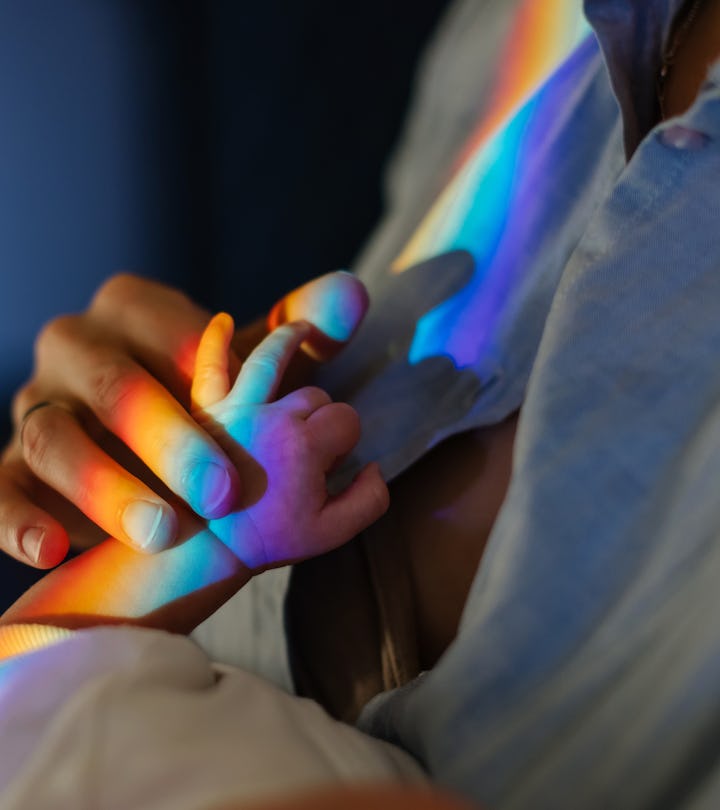 Shutterstock
24 Super Sweet Rainbow Baby Announcement Ideas
Your extra special baby deserves an extra special photo.
Any baby announcement is a thrilling moment. It's typically the first public celebration of this growing little human in your belly, and it's a joyous feeling to share your life-changing news with the world via social media. However, for families who have experienced loss, this rainbow baby announcement or rainbow pregnancy announcement is truly sacred, not to mention emotional. If you're preparing to announce your rainbow baby, draw some inspiration from these sweet rainbow baby announcement ideas.
A rainbow baby is a baby who is born after the loss of a baby, either by miscarriage, stillbirth, or death in infancy. While all pregnancies are unique, many rainbow baby parents would say that — unless you've experienced baby loss — you cannot truly understand the gratitude that comes from having a rainbow baby.
Having a rainbow baby doesn't mean your loss is forgotten, or your wounds from experiencing trauma are miraculously healed. Having a rainbow baby is woven into the fabric of the deep love you feel for all of your children, whether they're in your arms or in your heart, offering renewed hope after your storm. The following rainbow baby announcement ideas are creative and meaningful ways to share your joy and gratitude with the world.
However you choose to share your big news, any of these rainbow baby announcement ideas are sure to bring heaps of joyful well-wishes your way.
This article was originally published on