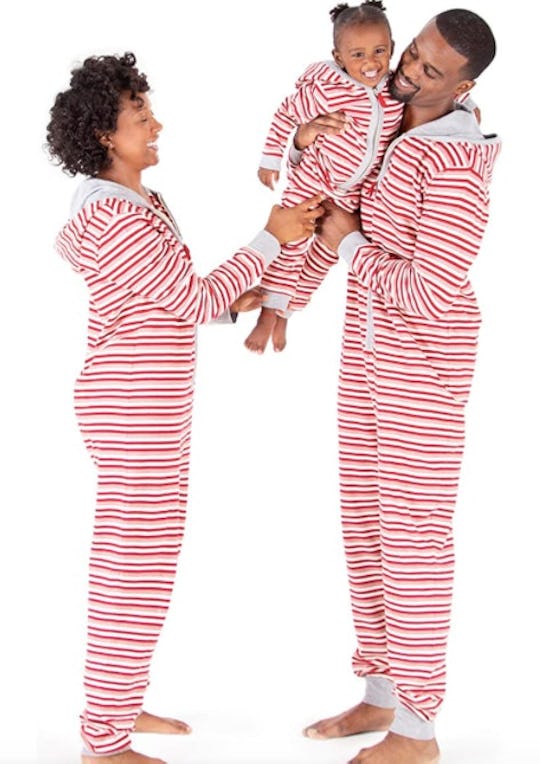 Burt's Bees
13 Matching Valentine's Day Pajama Sets The Whole Fam Will Look Adorable In
All you need is love (and these looks).
Are your winter holiday decorations down yet? Good because in about two seconds your kids are going to start asking you "when's Valentine's day?" and you'll need to prepare yourself for this time warp reality. As is always the case, the swift passage of time from caroling to conversation hearts seems to get faster every year so we've put together a list of must-have matching Valentine's Day pajamas for the whole family in advance. Now all you have to do is click "add to cart."
Oh I know, it feels too soon. But you know what will be worse than buying these adorbs matching outfits now when your holiday credit card bill still has yet to be paid off? Waking up on February 14 knowing your little doll babies could be bopping around the house in these ridiculously darling mactching Valentine's Day ensembles had you just pulled the trigger on buying them back in January. Trust me. I'm on year five of raising a kid and I've experienced the horror of not investing in holiday sleepwear early enough only to experience the sad face of my son upon realizing he'd have to wear his "summer jammy shorts" on Halloween. Sounds crazy, but maybe your kid is as fashion conscious as mine. Play it safe. Shop these matching Valentine's Day pajama looks now.
We only include products that have been independently selected by Romper's editorial team. However, we may receive a portion of sales if you purchase a product through a link in this article.
Ready to start feeling the love? Skip the box of chocolates and roses and stead give what will feel like a hug — an entire set of matching Valentine's pjs for the whole family.
This article was originally published on